EAA AirVenture Oshkosh is in full swing. This is the largest aviation festival of the year, and the fly-in alone means the AirVenture flight crew are operating the busiest control tower in America. With all that excitement it can be easy to miss out on things. Here is our list of five fantastic sites to see at Oshkosh 2014. If you weren't able to come this year, we hope this will dull the sting of missing out on one of our favorite events.
1. Hartzell HQ and The Flight Deck
We know it is a bit uncouth to start off talking about ourselves, but developing this building was a great deal of effort. We will be using it at every AirVenture from now on, so we are incredibly excited to see all our planning and work come to fruition. It features air conditioning, computer monitors to facilitate the huge amount of "shop talk" we get into at fly-ins, and even space to meet with our partners from across the industry (coffee maker included!) The new HQ is a joint venture with Hartzell Engine Technologies — who had some other big news at Oshkosh as well.  The real drawing point of the new structure is the Flight Deck. Eating lunch under the open sky, watching the airshow from a convenient vantage-point away from the crowds and spending time with our many friends at Oshkosh; what more could you ask for?
2. The HondaJet Tent
This item should really read "The HondaJet Experience." The company has gone all out for the Oshkosh debut of its new aircraft. They claim the unique over-wing engine design provides several benefits to the aircraft. Time will tell, but one thing is certain: their presence at Oshkosh was a definite success. Check out the photos gallery below to see for yourself.
3. Lycoming Museum
Lycoming is celebrating 85 years in business at Oshkosh 2014, and you can find their AirVenture tent at the corner of "Lycoming Blvd" and "Horsepower Way". Gimmicks aside, Lycoming has produced fine engines for many years. Our hats are off to them, as a partner and as another long-serving member of the aviation industry. The museum features older engine builds, an incredible documentary and other objects of interest from aviation history.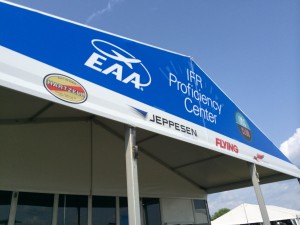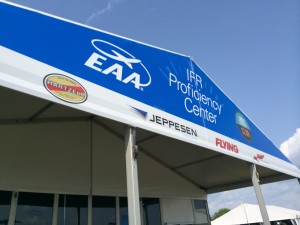 4. IFR Proficiency Center
Instrument flight is a critical skill for pilots looking to use their aircraft for travel. It is also an invaluable tool for pilots looking to keep their days in the sky as safe as possible. The IFR Proficiency center is a collaboration between Hartzell, EAA, FLYING magazine, Jeppesen, the National Association of Flight Instructors, pilotedge and Redbird Flight Simulations. Visitors will be treated to a documentary on the history and importance of instrument flight, as well as a large simulator room where pilots can train in instrument flight on networked computers with live aircraft control conducted by pilotedge.
5. Boeing Plaza
This is where the toys are. Fantastic aircraft from the past and present are displayed in Boeing plaza, and the offerings change daily. New aircraft are added and removed frequently, so it is worth stopping by multiple times throughout the week. Check out the gallery below to see some highlights from the week so far.