When it comes to aircraft propellers, Hartzell Propeller has over 100 years of knowledge and expertise. So, when people come to us with questions about their props, we're always happy to help — no matter the topic!
Today, we're sharing the answers to a few of the most common aircraft propeller questions we receive at Hartzell:
What are the advantages of composite propeller blades?
Composite aircraft propeller blades offer a number of performance and maintenance advantages. At Hartzell, our structural composite blades offer a substantial weight reduction over aluminum propeller blades. The nature of composite materials makes it possible to create thin, efficient airfoils that are still strong enough to withstand extreme forces in flight. A lightweight composite aircraft propeller may contribute to noise and vibration reduction, less wear on the engine, and better fuel efficiency.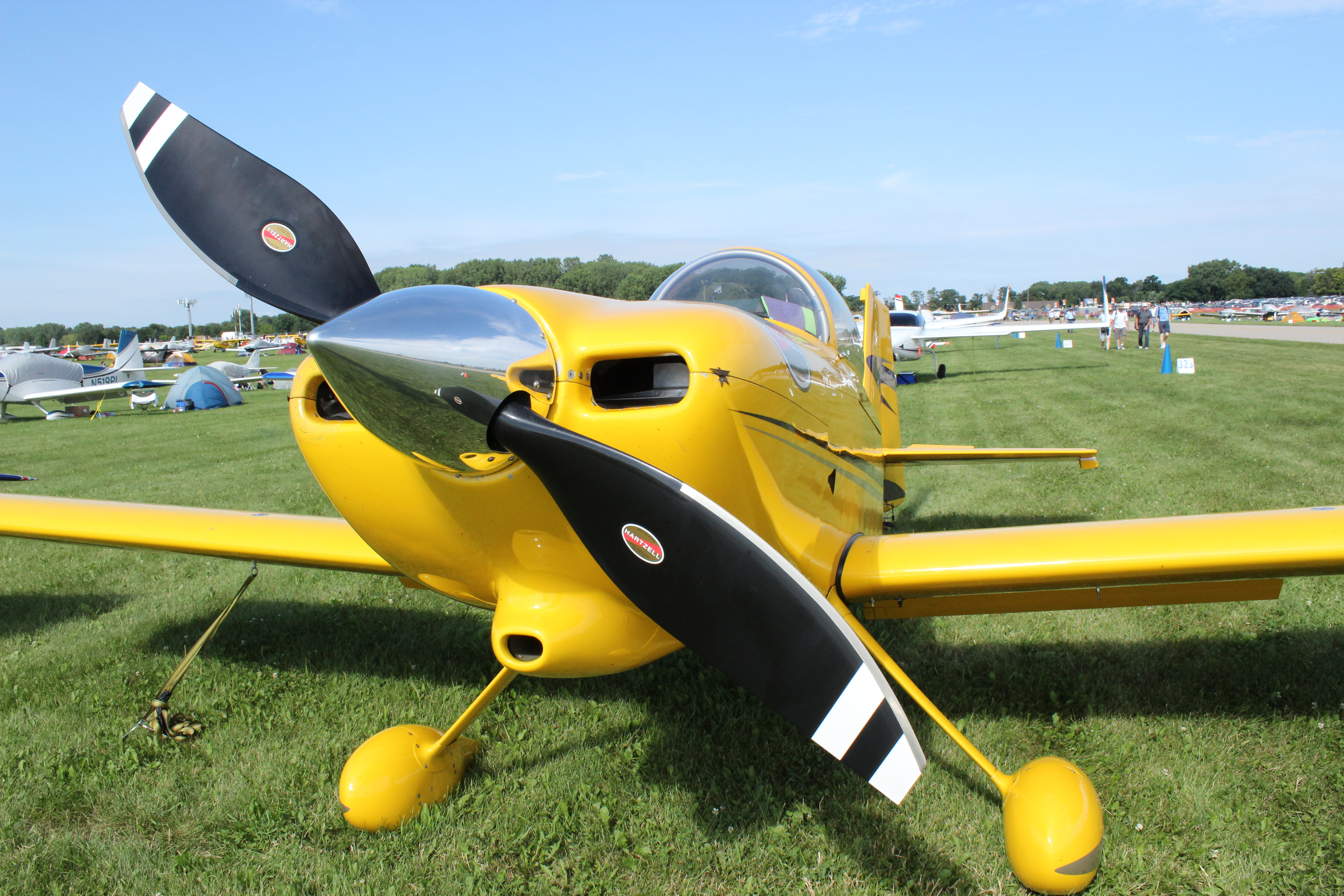 Hartzell's composite propeller blades also feature a longer service life and the ability to maintain a more optimum airfoil shape over the service life of the blade. This is because most damage to composite aircraft propeller blades can be repaired and returned to service many times over, whereas damage to an aluminum blade requires removal of material until it eventually falls under dimensional limits for strength and must be retired from service. 
Are three (or more) aircraft propeller blades better than two?
The short answer is, it depends! Generally speaking, 2-blade propellers are slightly more efficient. However, efficiency doesn't propel an airplane; thrust does. The most efficient number of propeller blades for a given aircraft depends on a combination of factors, particularly the aircraft's engine power, as well as the operating RPM for the propeller, diameter limitations, and performance requirements. As engine power increases, additional blades are often required to efficiently utilize the increased power and produce thrust.
If appropriate for the airplane, additional propeller blades can also help to reduce cabin noise and vibration, plus enhance the overall ramp appeal. Today's lightweight composite blade technology makes it possible to have propellers with upwards of 6 blades.
Should I polish my propeller blades?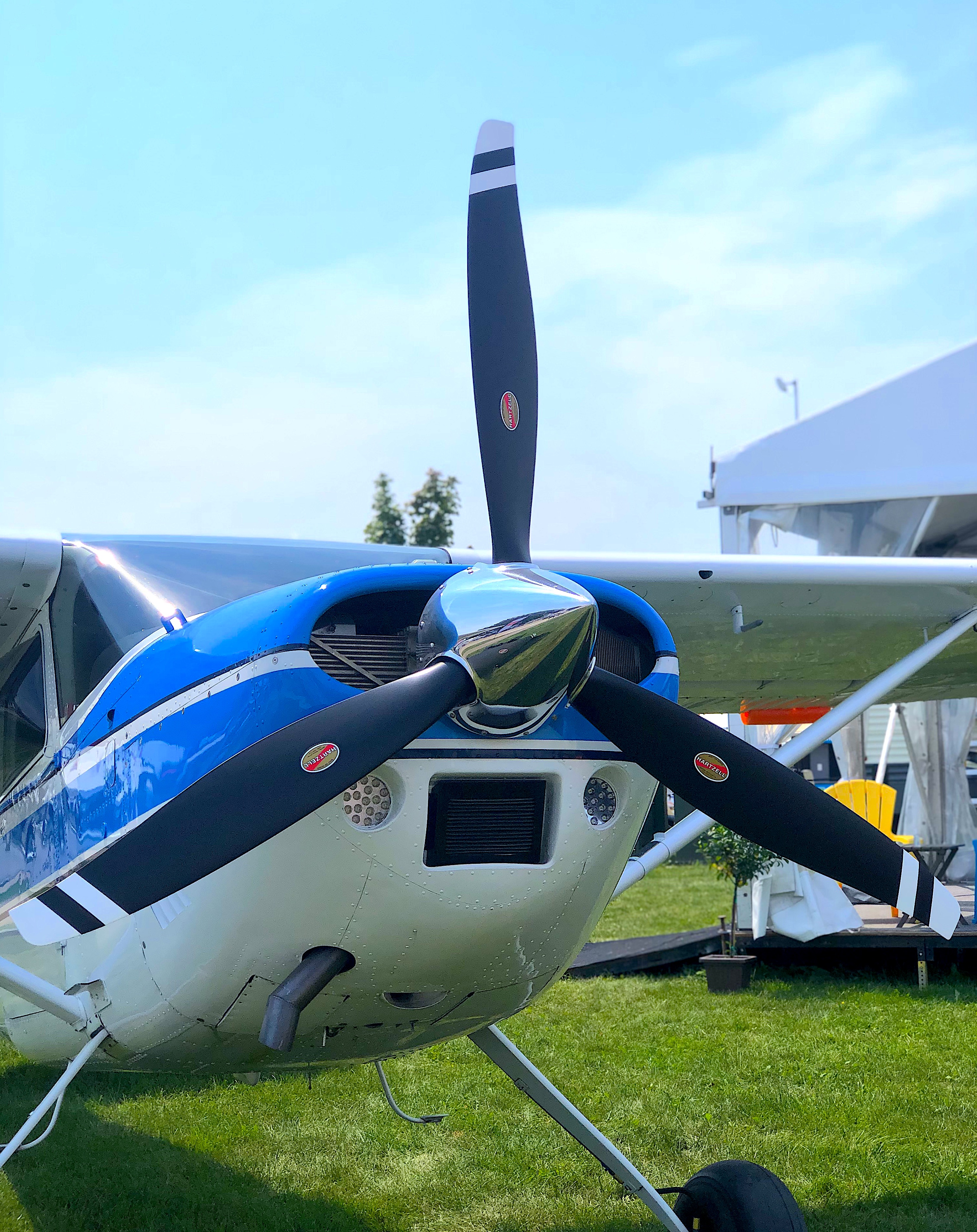 You won't find unpainted polished aluminum propellers at Hartzell, and we highly discourage attempting to polish blades on your own. Stripping and polishing the propeller blades removes the protective paint and anodize layer on the blades, which can lead to harmful corrosion. Polishing the blades will also void the industry-leading warranty on new Top Prop propellers. If the paint on your Hartzell propeller is beginning to show signs of wear, we suggest touching up with an approved paint or visiting a prop shop for a "dress and paint" as needed. 
What are the benefits of scimitar propeller blades?
Scimitar (pronounced si-muh-tr) propeller blades don't just look sleek; they also offer a number of key benefits. Sweeping the blade tip back reduces the noise generated and may also improve efficiency. Hartzell's aerodynamic swept-tip scimitar propeller blades, combined with our blended airfoil technology, are designed to maximize performance while meeting limits on diameter, weight, strength, and noise.
What is the recommended time-between-overhaul (TBO) for Hartzell propellers?
We're glad you asked! Airplane propeller overhauls are an essential part of prop care and maintenance, and the TBO limits published by your propeller manufacturer are intended to protect your safety and the performance of your aircraft. If you have a Hartzell prop, you'll find detailed information about airplane propeller overhaul limits for your specific propeller model in Hartzell Service Letter HC-SL-61-61Y. Propeller overhaul intervals are expressed in either flight hours or calendar time, whichever comes first. This leads us to another common propeller overhaul question: Why should I schedule a propeller overhaul after 5 or 6 years when my prop has limited flight time since the last overhaul and my aircraft is stored in a heated hangar?
It's important to remember that even aircraft propellers with low operating hours are still susceptible to degradation over time due to corrosion, internal seal aging, and the breakdown of internal lubricants — even if they're stored in a heated hangar. Many times, this type of damage isn't visible and can only be detected during a complete propeller disassembly and overhaul at a certified propeller repair facility. Following Hartzell's published overhaul limits will ensure that any problems within your propeller are identified early, ideally while they're still easily repairable!
Where are Hartzell propellers manufactured?
Hartzell is proud to be a leading U.S. manufacturer in the general aviation industry. Since the company was founded in 1917, Hartzell Propeller has manufactured propellers in Piqua, Ohio — about 30 miles north of Dayton, the birthplace of aviation. Our state-of-the-art manufacturing facility sources material from domestic vendors and suppliers, supporting the production of thousands of aircraft propellers each year.
Hartzell Propeller is always looking for talented people to join our team and advance the future of aviation. Do you have an interest in aviation propeller manufacturing, or know someone who is? Visit our employment page to learn about our current manufacturing jobs in Piqua, Ohio.
Do you have a question about your aircraft propeller?
Whether you have a technical question, an airplane propeller overhaul or repair inquiry, or you're wondering which Top Prop propeller conversion is right for your airplane, Hartzell Propeller's experts are here to help. View our FAQ page or contact us today, and we'll be in touch with a quick and knowledgeable response.