The Van's Aircraft RV-8 was introduced at Oshkosh in 1995 as an update to the celebrated Van's RV-4. Like its predecessor, the RV-8 is a tandem two-seat single-engine homebuilt aircraft stressed for aerobatics. The formation aerobatic pilots behind Redline Airshows, Jon Thocker and Ken Rieder, have been pushing the RV-8 to its limits for years. We sat down with Ken to find out what makes this aircraft so special.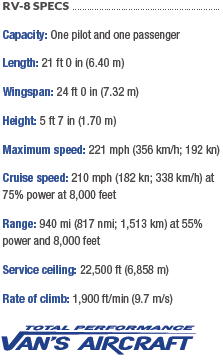 Why is the RV-8 the best fit for Redline Airshows?
Since it's a tandem seat airplane, it offers good visibility of the sky, the ground and both sides of the airplane. The performance was described many years ago as, "It wouldn't win first in any category, but it would win second in every category." Quite honestly, it does everything, but it's the perfect platform for the type of formation aerobatics I do.
How do those advantages translate to the average homebuilder?
It works out to a very good "gentleman's" aerobatic airplane for the light aerobatic pilot, but it is also perfectly suited to fly long distances. One advantage my RV-8 has over the other aerobatic planes is that it's fully IFR. I've flown it down to the Dominican Republic for an airshow and all the way up to Alaska and into the Yukon.
What attracted you to build your own aircraft?
Production model airplanes are built to be a friendly, easy flier for almost all pilots. Their performance is usually not quite as specific as it is for an Experimental. Building an RV, I can get a plane that's using a similar engine to a Cessna 172 and end up with about 75% more performance from roughly the same amount of fuel.