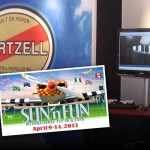 Our Hartzell Propeller crew had a great time at the Sun 'n Fun International Fly-In and Expo recently in Lakeland, Florida. The weather was beautiful, the planes were incredible, and we met some great people.  It was especially nice to have this nice note from Mary waiting for us when we returned to work.
"Hi! I've been at Sun 'n Fun all week and hearing about your 
sponsorships. I just want to say thank you. Going to airshows is my 
stress relief. Of course, my stress is not your problem, but without 
your generous support, there would be much fewer planes in the sky. Thank you for your help in keeping them flying!"
Thanks for the note,  Mary. Hope to see you again next year! Our next travel adventure takes us overseas to Aero Friedrichshafen in Friedrichshafen, Germany April 24th through the 27th.  Drop by if you're in the neighborhood.
We always welcome your correspondence. Drop us a line anytime.