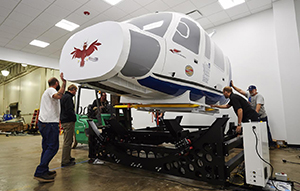 Students in the Case Western Reserve University (CWRU)  acute care nurse practitioner program will soon train on a helicopter simulator so advanced that only two exist in the world. The Frances Payne Bolton School of Nursing's Dorothy Ebersbach Academic Center for Flight Nursing Program recently obtained the nation's first medical helicopter simulator built inside an actual helicopter. The simulator was installed by Red Bird, with help from Hartzell, and it is really an incredible piece of technology.
The new CWRU medical helicopter simulator is equipped with state-of-the-art life-saving equipment, as well as technology designed to create an unparalleled sense of immersion for students. The simulator can display real aerial scenery through the windows and adjusts to simulate the movement, noise, temperature, vibration and altitude changes that can affect patients in real emergency situations. The fuselage itself came from a retired Sikorsky S-76, and offers students the chance to practice key aspects of aerial medical care such as rotor safety and entering and exiting the helicopter.
It was a pleasure to assist CWRU and Red Bird as they push back the boundaries of flight training for medical professionals. Red Bird has consistently been a valuable partner to Hartzell, and we appreciated the opportunity to lend a hand on this exciting project. To find out more about their cutting edge technology, visit RedBirdFlightSimulations.com.