THE EMERGENCE OF CELLULAR MANUFACTURING
ROBOTIC EFFICIENCY + HUMAN INTELLIGENCE = THE NEXT REVOLUTION
Five years ago, at the height of America's Great Recession, the future of U.S. manufacturing looked bleak. Over 1.6 million  production jobs disappeared between 2008 and 2010, according to the Bureau of Labor Statistics. They would not reach 2008 levels again until May 2014. Of course, the Great Recession didn't cause the decline. It only accelerated decades-old trends in outsourcing and automation.
While robotic labor threatened to turn "Made in the U.S.A." into a thing of the past, innovative manufacturers were investing in the world's most powerful computer: the human mind.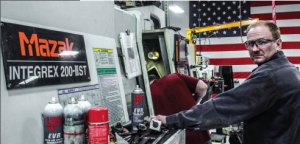 Companies like Hartzell Propeller pair human ingenuity and problem solving with robotic precision and performance through an emerging practice called cellular manufacturing. In traditional "functional manufacturing," similar machines are placed together. Cellular manufacturing leverages the flexibility of a human workforce to augment the reliability of automation. Machines are grouped together according to the families of parts produced. Workers take on multiple processes and shift tasks as needed in order to keep production moving at all times. The workforce manages multiple stages of the process, while the machines carry it out.
"Our technicians on the floor really have to wear many hats," says Craig Barhorst, Manager of Manufacturing at Hartzell. "We expect them to help us with setup and process development, make sure we are inspecting the parts properly and verify that all the documentation is happening."
The techniques on display at Hartzell's manufacturing facility in Piqua, Ohio, utilize Mazak Technology's multi-axis machines as well as automatic loading technology. These tools let workers follow a part from concept to completion.  The result is reduced lead times, inventory and waste, and more on-time deliveries. But, the process doesn't just build value for the company. It also increases the value of the men and women who run the manufacturing floor.
"To do this right you have to be just as skilled and just as intelligent as the artisans of the past; you're just doing things a little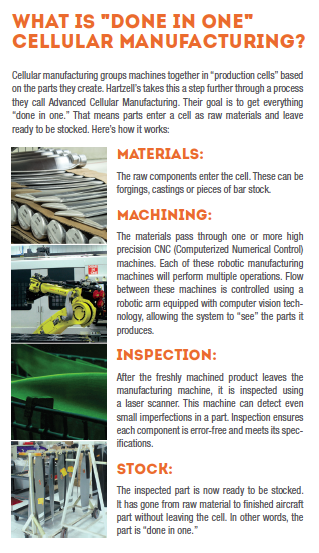 bit different," explains Barhorst.  "Instead of turning handles and sneaking up on something, you're at a keyboard and you're programming that robot or you're figuring out the tool line."
Workers have to know the machines inside-out and understand their role in the context of the larger manufacturing floor to ensure the flow of production never stops. The robots do exactly what workers program them to do, but Hartzell Executive Vice President J.J. Frigge is quick to point out that they aren't thinking machines. When issues arise, Hartzell has to have skilled workers capable of developing  alternative solutions. Those workers are not only valuable, they are indispensable.
"When plan A fails, you have to be able to go to plan B," says Frigge. "A robot is not very good at going to plan B, so the operators bring the intelligence and the process knowledge to it."
While the operators keep the process moving, Mazak's machines focus on the details and precision measurements that are more suited to a machine workforce. The overarching goal on Hartzell's manufacturing floor is getting parts "done in one." Parts, such as aluminum propeller hubs, come into a cell as blocks of raw material and leave as usable products.
"When you are in an airplane you want to know that everything has been manufactured to the tightest tolerances possible," said Hartzell's Manufacturing Services Manager Justin Carter. "The technology that we have from Mazak allows us to combine what was several [manufacturing] setups. The parts are much better due to the reduced number of steps."
The benefits of cellular manufacturing go beyond the shop floor, however. They affect entire communities. While local manufacturers have left town and taken jobs with them, Hartzell's investment in innovative manufacturing processes has made it the bedrock of Piqua, Ohio. As Hartzell President Joe Brown recently told the U.S. House Committee on Transportation and Infrastructure, the average seniority of a Hartzell employee is more than 20 years. The company is introducing new products and hiring machinists to keep up with consumer demand. The firm even partners with a local community college to train more skilled workers.
"We are working to find that equilibrium between automation and human intervention so we can continue to compete," said Barhorst. "Instead of a workforce that is nervous about automation, I think we have done a pretty good job of including everybody and realizing that these yellow robots help protect jobs, not take them."