The Hartzell booth is just one great place to check out while you are at Sun 'n Fun. Here's our list of five other things you must see before you leave.
1. TBM 900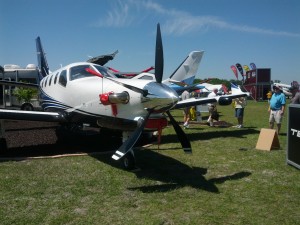 Daher-Socata recently unveiled the next generation of TBM aircraft. The 900 makes significant performance improvements over the 850 and 700. The biggest changes are the result of fluid dynamics testing Socata undertook during the aircraft's four-year development process. Reduced drag results in higher net horsepower. Our favorite thing about the TBM, however, is how fantastic it looks sporting our 5-blade composite propeller.
2. Sun 'n Fun Museum
Hartzell is proud to offer the best airplane propellers for sale anywhere in the world, but we support aviation in many other ways as well. Among them, a donation we recently made to the Sun 'n Fun museum. This high quality composite propeller teaches Sun 'n Fun attendees about our great passion: aviation technology and engineering.
3. Trailblazer Prop at Glasair
The Trailblazer, our composite propeller for bush flying, debuted just over one week ago, and it is already turning heads. The prop is mounted on a rugged-looking Sportsman in the Glasair booth. The combination makes for an aircraft that looks capable of taking on anything. That is precisely what the Trailblazer was designed for: the rigors of backwoods flying, short runways, quick climb and high durability.
4. Redbird's Redhawk makes its debut
The Redhawk is an innovative new aircraft aimed at flight schools and beginner pilots. The plane is an overhauled Cessna 172 with a diesel engine. The aircraft is engineered to keep maintenance costs low, and Hartzell's ultra-durable Bantam composite propeller for the Cessna 172 helps make that possible. The Bantam composite propeller is built to last 2,400 hours between overhauls and increase performance. The real treat for Sun 'n Fun, however, is seeing the how fantastic the Bantam prop looks in Redbird's booth. We suggest you head over, check out the prop and take a spin in one of Redbird's immersive flight training simulators. Hartzell is proud to be a part of Redbird's mission to teach the world to fly.
5. Aerobatics
Tuesday was closed out with an impressive aerobatic exhibition, and many of the performers were flying Hartzell props. Earlier in the day, we took a walk through the rows of experimental and homebuilt aircraft. It was great to talk with some of the owners and pilots who share our passion for aviation. It was even better to watch some of those pilots take to the skies, demonstrate the power of precision aviation technology and wow the crowd with their feats of skill.