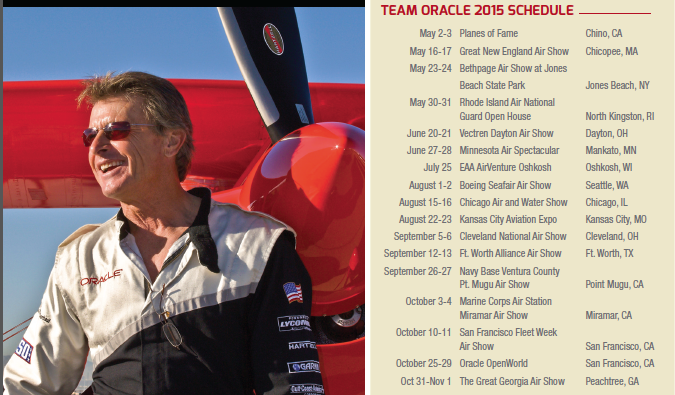 ---
SEAN D. TUCKER has been flying airshows worldwide since the mid-70s and has won numerous aerobatic competitions. In that time, he has flown more than 1,200 performances at more than 475 airshows in front of more than 105 million fans.
The level of professionalism and discipline in Sean's airshows is no coincidence. He practices his airshow routine three times every day. To endure the extreme physical demands of each routine, Sean maintains
a rigorous physical training schedule, working out more than 340 days per year.
Named as one of the Living Legends of Flight, Sean is a member of an elite group of aviators and astronauts that includes General Jimmy Doolittle, General "Chuck" Yeager and John Glenn.
In addition to being a phenomenal aviator, Sean is also a larger than life character who inspires millions of Americans. And he is passionate about the Team Oracle program. His goal is to share the magic of flight with Team Oracle's guests by inspiring and thrilling them.
"I want them to go away saying that the airshow was one of the most engaging days of their lives."