Catch some of the coolest aviation talk from the @HartzellProp Twitter feed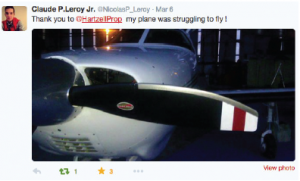 This photo from a French aviator reminded our team of the simple joys of flying. Despite the focus on technology and engineering that dominates our industry, at the end of the day Hartzell exists to help pilots live their dreams. It's great to see our hard work put to use.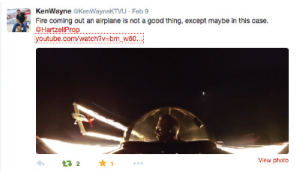 Ken Wayne, Weekend Anchor for KTVU in San Francisco, sent us this photo of the Redline Airshows team testing out their new pyrotechnic equipment. Both of Redline's pilots, Ken Rieder and Jon Thocker, fly homebuilt RV-8s. Their formation aerobatics have garnered acclaim across the United States. Visit  RedlineAirshows.com to check out photos, videos and the team's schedule. You can also get Rieder's thoughts on the versatile Van's RV-8 in this issue's Aircraft Spotlight.
Robert N. Hartzell founded Hartzell Walnut Propeller Company in 1917 at the suggestion of Orville Wright. He saw the company through two World Wars and the Great Depression. Robert also holds the world's first patent for a composite aircraft propeller. It is a great honor to see him enshrined among the greatest men and women of aviation history.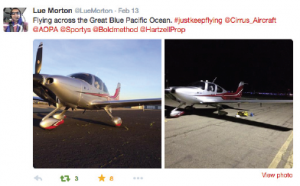 One intrepid aviator sent us photos of this special edition Cirrus SR22 Australis as he crossed the Pacific to drop it off at the Australian International Airshow and Aerospace & Defence Exposition. The Australis is a fifth-generation SR22 designed to weather the tough conditions faced by Australian pilots. It features a personal locator beacon, a four-person survival bag, a claw tie-down system and glass treated to block harmful UV radiation. As a final touch, the Australis is painted with Australia's Southern Cross.