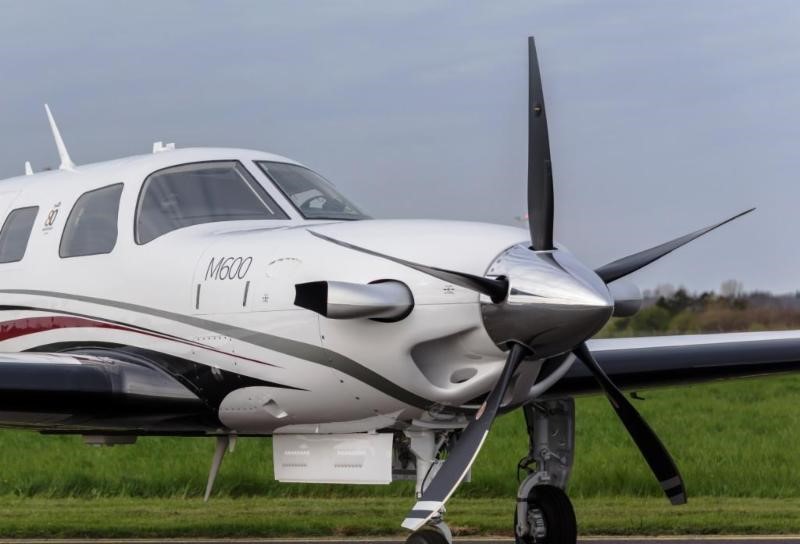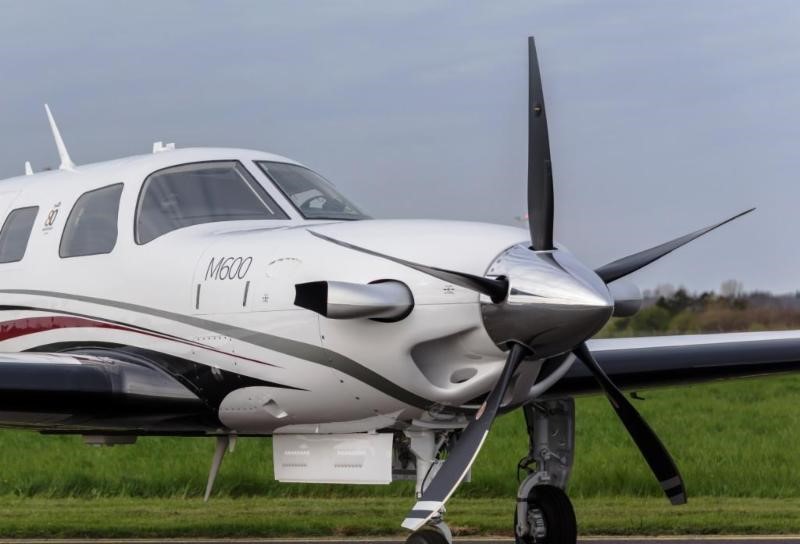 Piqua, Ohio, May 9, 2017 – Hartzell Propeller's new five-blade composite swept tip prop has received FAA approval for installation on the Piper M600 turboprop aircraft. Hartzell's newest propeller was designed specifically for the Piper M600.
It features thin, maximum efficiency airfoils providing increased performance and outstanding ramp appeal. The durability of the new Hartzell prop integrates nicely with the Piper M600 and enhances the aircraft's outstanding reliability characteristics.
"This new program is another example of Hartzell working closely with a world-class OEM to bring out the very best in airplane performance," said Hartzell Propeller Executive Vice President JJ Frigge. "We are just delighted to carry on our long tradition of working with Piper Aircraft, and this new propeller will further improve the excellent performance envelope of their flagship aircraft," he added.
"The Hartzell propeller five-bladed prop design not only provides the opportunity for increased performance, it also adds to the value of Piper's new M600," said Piper Aircraft President and CEO Simon Caldecott. "Piper's offering of the Hartzell 5 blade M600 composite prop provides a contemporary look and enhances cabin comfort by reducing in-flight vibration."
 The advanced design of the carbon composite propeller blades allows for an unlimited life certification and makes them five to 10 times stronger than similar wood core blades. The design features a stainless steel shank, nickel cobalt leading edge, and mesh erosion screen for FOD protection. Hartzell five-blade composite propeller is offered as a Piper factory option for 2017 on new M600 aircraft.
About the Piper M600
The Piper M600 features a new, clean sheet design wing and a sophisticated Garmin G3000 touchscreen-controlled glass flight deck. The M600 seats six and is powered by a Pratt & Whitney PT6A-42A 600shp engine. The aircraft has a maximum cruise speed of 274 ktas/507 km/h, a max range of 1,484 nm / 2,748 km, and a standard useful load of 2,400 lbs. / 1,089 kg.The G3000 avionics suite is the next generation of Garmin architecture, offering the most comprehensive, intuitive, and technologically advanced package on today's market.
About Piper Aircraft
Piper Aircraft Inc., headquartered in Vero Beach, Fla., provides aviators throughout the world with efficient and reliable single- and twin-engine aircraft. The single-engine M-Class series – the M600, M500, M350 and Matrix – offer businesses and individuals elegant performance and value. The Twin Class Seneca and Seminole balance proven performance, efficiency and simplicity in twin-engine aircraft. The Trainer Class Warrior, Archer TX, Archer DX, Arrow, Seminole and Seneca aircraft form the most complete technically-advanced line of pilot training aircraft in the world. All Piper airplanes feature advanced Garmin avionics in the cockpit. Piper is a member of the General Aviation Manufacturers Association.
About Hartzell Propeller
Hartzell Propeller is the global leader in advanced technology aircraft propeller design and manufacturing for business, commercial and government customers. In business for more than a century, the company designs next generation propellers with innovative "blended airfoil" technology and manufactures them with revolutionary machining centers, robotics and custom resin transfer molding curing stations. With ASC-II™ composite technology, Hartzell delivers optimal performance, strength, and durability with carbon fiber blades. Hartzell Propeller and its sister company, Hartzell Engine Technologies LLC, form the general aviation business unit of Tailwind Technologies Inc. For more info on Hartzell Propeller go to www.hartzellprop.com.