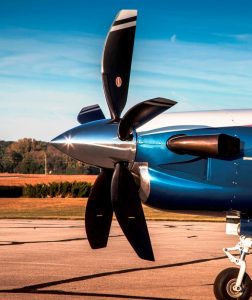 Phoenix, Ariz., Sept. 19, 2016 – Hartzell Propeller has delivered 230 advanced swept airfoil five-blade props for Daher TBM 700/850/900/930 aircraft, since FAA approval in 2014. The announcement was made today in advance of the Annual TBM Owners and Pilots Association Convention to be held here Sept. 21-24.
"Hartzell's high performance structural composite propellers are now flying on roughly 30 percent of the entire Daher TBM fleet after less than three years on the market," said Hartzell Propeller Executive Vice President JJ Frigge. "The reasons are simple. These attractive, high performance propellers perform with shorter takeoff rolls, a better rate -of- climb, better cruise speeds,very smooth rides, a shorter stopping distance, with less noise."
TBM Prop Comes With Lengthy Warranty
The Hartzell prop available for retrofit on the 700/850 fleet is delivered as standard equipment on new Daher TBM 900/930 aircraft. Hartzell offers new props with the longest warranty for propellers offered anywhere in the general aviation industry, all the way through first overhaul. The new propeller is available through Hartzell's Top Prop conversion program (www.hartzellprop.com) or through Daher's dealer network.
Due to the incredible strength and light weight of Hartzell's composite structure, the propeller company optimizes blade chord thickness and sweep while achieving maximum strength. The strong structural composite construction of the carbon fiber blades and their sleek aerodynamic design boosts the TBM's already impressive performance.
With the new Hartzell propeller, the TBM 700/850 series takeoff acceleration from zero to 90 knots is 10 percent faster than with any other available propeller. Hartzell's ASCII  propeller also provides a hundred feet-per-minute faster climb. Cruise is two or more knots faster than the Hartzell four-blade metal prop and a full five knots faster than a five-blade wood-core propeller. The Hartzell five-blade prop is also significantly quieter in the cabin and in the pattern.
About Hartzell Propeller
Hartzell Propeller is the global leader in advanced technology aircraft propeller design and manufacturing for business, commercial and government customers. The company designs next generation propellers with innovative "blended airfoil" technology and manufactures them with revolutionary machining centers, robotics and custom resin transfer molding curing stations. With ASC-II™ composite technology, Hartzell delivers optimal performance, strength, and durability with carbon fiber blades.
Hartzell Propeller and its sister company, Hartzell Engine Technologies LLC, form the general aviation business unit of Tailwind Technologies Inc. The aerospace technology company also includes Hi-Tech Metal Finishing and Mayday Manufacturing. For more info on Hartzell Propeller go to hartzellprop.com.