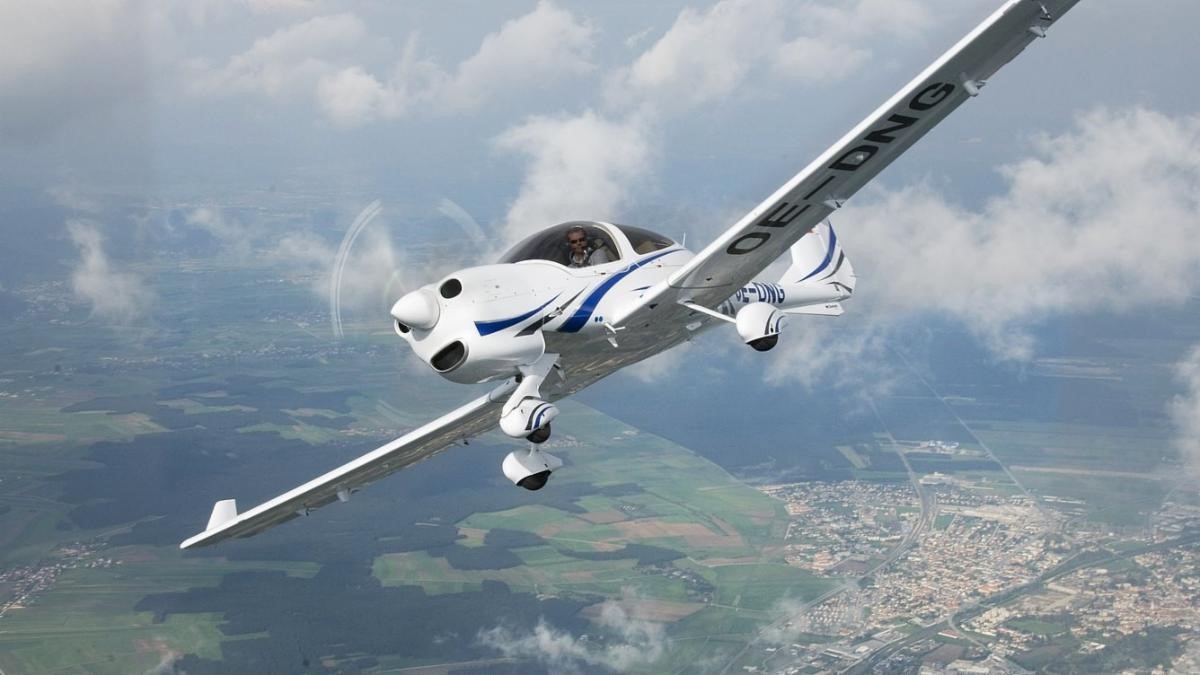 Diamond Offers Polaris Prop Option on DA40 NGs.
OSHKOSH, Wis., July 25, 2023 – Propeller news from EAA Air Venture Oshkosh 2023:
Hartzell Propeller's 3-blade carbon fiber Polaris prop is now offered as a factory option on new Diamond DA40 NG four-seaters.
Hartzell Propeller and Wipaire are expecting FAA STC approval for new Yukon 4-blade propellers for Cessna Caravan utility turboprops.
This year, Hartzell Propeller will deliver the 30,000th propeller under its Top Prop Conversion Program, which began 30 years ago.
Hartzell Propeller President JJ Frigge made these announcements at a press conference today at EAA Air Venture. His comments covered the following programs:
Diamond Offers Hartzell Polaris Prop as a DA40 NG Option
Working closely with Diamond Aircraft, Hartzell Propeller has received a Supplemental Type Certificate (STC) from the FAA to replace Diamond DA40 NG MT wood/composite propellers with new and higher performance 3-bladed lightweight Polaris composite props. The 74-inch diameter three-blade ASCII carbon fiber prop for the Austro Engine E4-A features a lightweight Bantam aluminum hub and 2,400-hour / six-year TBO, with Hartzell's warranty through first overhaul.
"Hartzell's Top Prop performance conversion kit includes the propeller, a white or metallic silver composite spinner, and STC documentation," said Frigge. "It delivers light, smooth and state-of-the-art improved climb performance, two to three KTAS faster cruise and is more durable, with an eco-friendly 74.1 dB(a) noise level," he added.
The Top Prop conversion kit is for DA40 NGs equipped with MÄM 40-434 (Cowling Redesign) or OÄM 40-310 (Exhaust System with Muffler).
Hartzell's three-blade advanced structural composite propeller for the Diamond delivers low weight, low inertia, and low life cycle costs. Additionally, it provides all-weather durability and reliability of a true carbon-fiber composite propeller system, which has been demonstrated and proven on multiple platforms.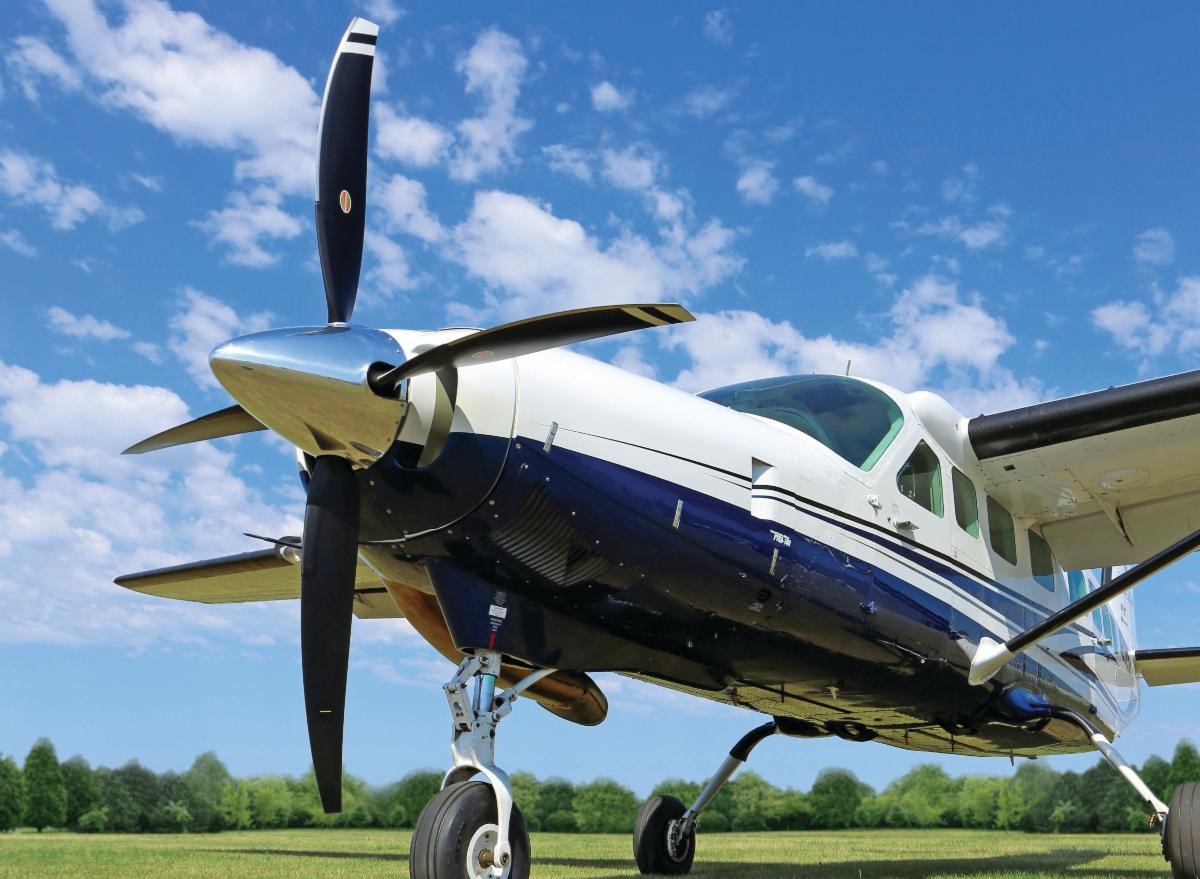 Wipaire Caravan to Feature Hartzell Yukon Propeller.
Wipaire, a leading aircraft engineering and manufacturing company, and Hartzell Propeller are expecting FAA STC approval for new Yukon 4-blade propellers with improved low-speed thrust providing better takeoff and climb performance in Cessna Caravans.
Deposits are now being taken by Wipaire for the newly designed composite 110-inch diameter props available with or without TKS ice protection or electric de-ice boots. STC approval is expected in the third quarter of 2023, dependent on FAA response times.
"On the Caravan with a Yukon prop, Wipaire flight test results showed there is up to a 26 percent decrease in total takeoff distance from land and up to a 31 percent decrease in takeoff from water," said Frigge. "This translates into safer takeoffs and landings on smaller lakes and shorter runways," he added.
According to Wipaire, cruise speed is increased at lower power settings, up to 2 knots faster, saving fuel while increasing speed. Another important improvement is in weight. Coming in at 137 pounds, the Yukon is up to 19 pounds lighter than other available props.
Since the Yukon prototype was first shown at EAA AirVenture in 2022, Wipaire has completed testing on the new prop. The impressive flight performance with the Yukon is a credit to engineers from both companies and Wipaire test pilots.
Wipaire's test results confirmed that there is no change in Caravan stall speeds. Additionally, the Yukon's carbon composite construction and nickel leading edges reduce risks for corrosion.
The new Wipaire Yukon STC applies to:
C208 & C208B floated or wheeled
PT6A-114A 675 SHP Engine (S/N 208B5000 and up)
PT6A-140 867 SHP Engine (S/N 208B5000 and up)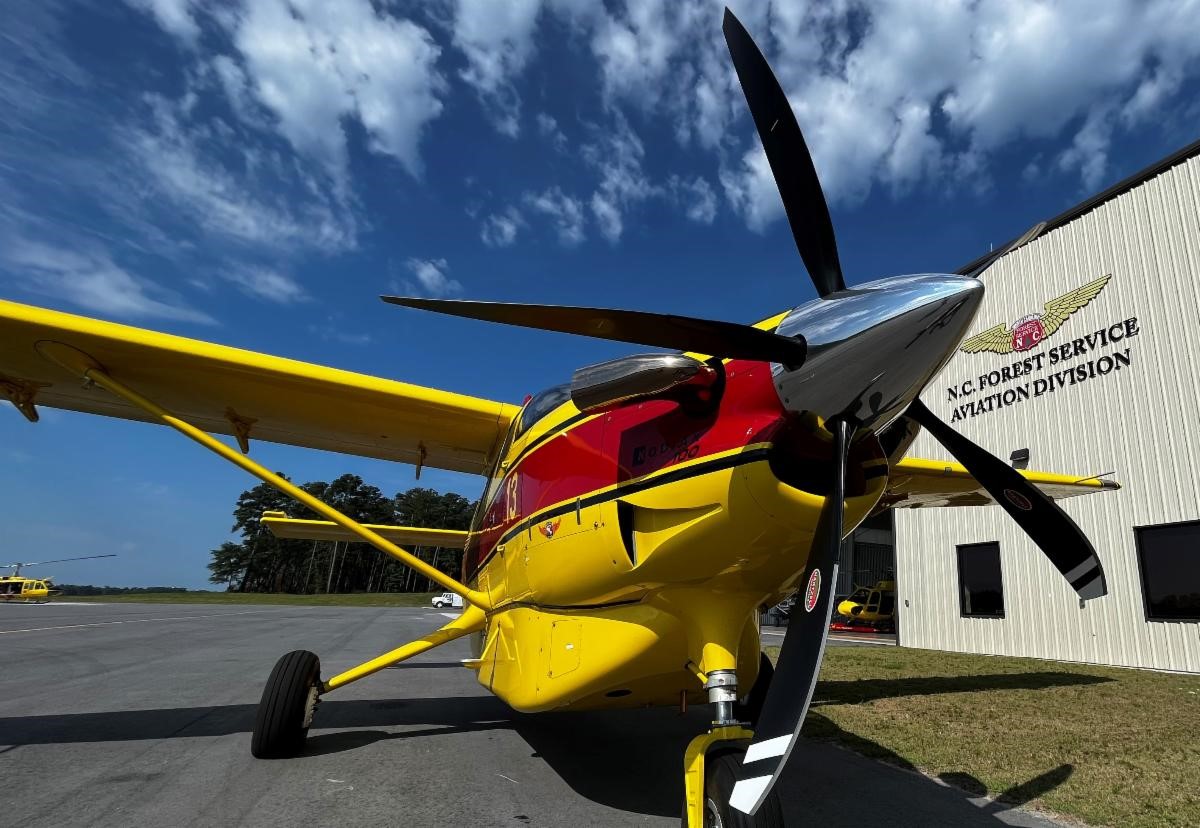 Daher Kodiak with 5-blade Top Prop Conversion.
30,000 Hartzell Top Props in 30 Years
Confirming the success of Hartzell Propeller's Top Prop Conversion Program for the past three decades, the company will deliver its 30,000th replacement propeller under the marketing banner sometime in 2023. Working closely with many OEMs, the Top Prop catalog has over 100 different product offerings on dozens of different aircraft and engine platform combinations.
"The Hartzell propeller conversion is one of the smartest investments you can make for your aircraft," Frigge said. "The Top Prop STC program makes propeller conversion easy. We are proud of designing, manufacturing, flying and supporting 30,000 props in the past 30 years."
Top Prop allows customers to upgrade to innovative new designs featuring scimitar blades, blended airfoils, and rugged structural composite materials. Hartzell's Top Prop offers propellers for Beechcraft, Cessna, Diamond, Piper, Mooney, Pilatus, Daher and many other leading aircraft brands.
Top Prop offers benefits including shorter take-off distances, lower noise levels, better ground clearance, reduced tip erosion, increased climb rates, increased cruise speeds, and smoother operation. 
About Diamond Aircraft
Diamond Aircraft, headquartered in Austria with facilities in Canada and China, is amongst the leading aircraft manufacturers in General Aviation. Founded in 1981, Diamond has pioneered many aviation firsts and achieved numerous milestones and industry expert accolades. Today, Diamond Aircraft has more than 1,000 employees worldwide and offers the single-engine piston DA40 NG.
About Wipaire
For over 65 years, Wipaire has been engineering and manufacturing a full line of aircraft floats for all sizes of aircraft from the Piper Cub to the De Havilland Twin Otter, including most single-engine Cessna aircraft. Additionally, Wipaire has engineered over 100 Supplemental Type Certificated modifications. As a leading aircraft service provider, Wipaire offers maintenance, avionics installation and repair, custom interior design and installation, and exterior paint refinishing. All these services, along with the aircraft sales team, are based in South St. Paul, Minn. Wipaire is recognized for its quality products and engineering expertise.
About Hartzell Propeller
Hartzell Aviation's flagship company is Hartzell Propeller, the global leader in advanced technology aircraft propeller design and manufacturing for business, commercial and government customers. The company designs next-generation propellers with innovative blended airfoil technology and manufactures them with revolutionary machining centers, robotics, and custom resin transfer molding curing stations. For more information go to https://hartzellprop.com. 
About Hartzell Aviation
The Hartzell Aviation name brings together an outstanding array of firewall forward companies and products under one umbrella, reinforcing the organizations' core competencies and pursuit of improving General Aviation. The storied brands of Hartzell Aviation include Hartzell Propeller, Hartzell Aerospace Welding and Hartzell Engine Tech. Hartzell Aviation is committed to innovation and the continuous improvement of General Aviation products and services. The companies are held as subsidiaries and operate as stand-alone businesses with independent management teams, guided by the overriding principle of Built on Honor, which reflects a commitment to quality, performance and support. Hartzell Aviation's website can be found at https://hartzellaviation.com.