Piqua, Ohio, Sept. 22, 2014 – Hartzell Propeller Inc. appointed Palm Beach Aircraft Propeller Inc. as a Recommended Service Facility. Palm Beach Aircraft Propeller is located at Palm Beach County Airport (KLNA), in West Palm Beach, Fla., where it began in 1982 as a family-owned business, serving aircraft owners, FBOs and repair centers throughout the world.
"Palm Beach Aircraft Propeller, like Hartzell Propeller, is a family-owned business committed to the highest standards in general aviation. It has shown it can meet Hartzell's demanding and exacting standards and we are pleased to welcome the company into a prestigious and limited group of Recommended Service Facilities strategically located across the globe," said Hartzell Propeller President Joe Brown.
Network Has Highest Standards
"We hold our Recommended Service Facility Network to rigorous standards. In many cases, our requirements significantly exceed those of the governing airworthiness authorities. Hartzell strongly encourages its customers to use a Hartzell Recommended Service Facility for propeller repairs and overhauls," he added.
As a member of the network, Palm Beach Aircraft Propeller offers the highest-quality propeller overhaul and repair work available today, reflecting Hartzell's strong customer commitment to quality and performance. Palm Beach Aircraft Propeller becomes the 21st Hartzell Propeller Recommended Service Facility.
Palm Beach joins a impressive network of Hartzell recommended service facilities located throughout the Americas, Europe, New Zealand, Australia and Malaysia. This network of affiliated facilities, with factory trained technicians and state of the art equipment, ensures that owners and operators of Hartzell propellers are only a short flight, or drive, away from the best Hartzell recommended propeller service in the industry.
Stringent Requirements Met
To achieve Hartzell's coveted Recommended Service Facility designation, the propeller maintenance facility met a number of stringent requirements, including on-site quality systems, process audits, and factory trained and highly qualified propeller experts. In addition, Palm Beach Aircraft Propeller is required to maintain Hartzell-approved specialized propeller tools and equipment along with meeting the company's special process approvals on an ongoing basis.
"In 1982, my late husband Bob O'Neill, founder of Palm Beach Aircraft Propeller, Inc., had a dream after working many hours, days, weeks and years. Along with our sons, Larry and Mike, we have gained the respect and acceptance of the aviation community and have now become a Hartzell Recommended Service Facility," said company president Dot O'Neill.
"We welcome the opportunity to cooperate with Hartzell as we look forward to the changes that will be happening in the future of aviation. I feel that we have achieved Bob's dream of becoming one of the 'Best Propeller Shops in the Land,'" she added.
Warranty Center
Palm Beach Aircraft Propeller supports Hartzell customers as a Warranty Center. Partnering closely with the Hartzell factory, Palm Beach Aircraft Propeller receives preferred technical and parts support on warranty issues. This relationship ensures that Hartzell customers receive the highest-quality warranty repair work, processed in the shortest possible time.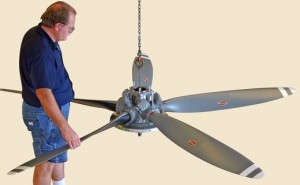 About Palm Beach Aircraft Propeller
Palm Beach Aircraft Propeller is a complete propeller service facility, specializing in the repair, inspection, overhaul, alterations and sale of aircraft propellers, aircraft propeller governors, aircraft wheels and related parts. It offers non-destructive inspections: magnetic particle, fluorescent penetrant, eddy current and ultrasound. It also conducts anodizing and cadmium plating in-house, along with many other aviation-related services.  For more info go to pbapi.com
About Hartzell Propeller Inc.
Hartzell Propeller is the leader in advanced technology propeller design and manufacturing with more than 3,700 propellers delivered annually to business, commercial and government customers. The company developed the next generation of propellers with innovative "blended airfoil" technology. It manufactures these blades using a combination of revolutionary machining centers and robotics. With its ASC-II™ composite technology, Hartzell provides mission-optimized performance for customers. Hartzell Propeller traces its beginnings in 1917 to a business relationship with Orville Wright and was founded on the principle of "Built on Honor" – a tradition that continues today. For more info go to hartzellprop.com.