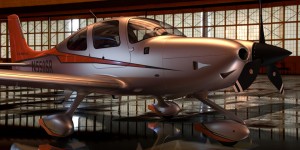 Piqua, Ohio, Feb. 11, 2014 – Hartzell Propeller Inc. and Cirrus Aircraft have entered into a five-year extension of an exclusive supplier agreement to provide propeller systems and governors for all of Cirrus Aircraft's new prop-driven airplanes. The agreement extends a relationship between the companies that began in 1996.
It was then that Hartzell began working closely with Cirrus to develop high-performance, low noise two- and three-blade propellers for the SR20 and later developed a new advanced three-blade structural composite propeller that helped launch the SR22. These propellers became the precursor for Hartzell's blended airfoil technology.
Under the extension, Hartzell will continue to provide Cirrus with three-blade metal propeller systems for the SR20 and SR22 and three-blade composite props for the SR22T, all single-engine aircraft. Hartzell expects to provide Cirrus with more than 250 propeller systems annually under the extension. Value of the contract was not released.
Hartzell Propeller President Joe Brown said, "When a leading manufacturer like Cirrus Aircraft, which specializes in advanced aircraft, selects Hartzell Propeller as its sole-source supplier of high performance propellers, we are gratified."
"Cirrus is pleased to continue the productive relationship we have had with Hartzell Propeller for more than 15 years," said Cirrus CEO and Co-Founder Dale Klapmeier. "The proven high performance and reliability are a perfect match for our advanced aircraft."
About Cirrus Aircraft
Cirrus Aircraft is a recognized leader in general aviation. Its all-composite line of personal aircraft – the SR20, SR22 and the turbocharged SR22T – incorporate innovative and advanced performance electronic and safety technologies, including Cirrus Perspective™ by Garmin® avionics and the unique Cirrus Airframe Parachute System™ (CAPS). To date, total time on the worldwide Cirrus Aircraft SR-series fleet surpassed five million flight hours with 85 lives saved as a direct result of CAPS being a standard safety feature on all Cirrus aircraft. All Cirrus aircraft are made in the U.S. with a direct sales force in North America and authorized sales centers covering export markets in 60 countries around the world. Cirrus Aircraft is wholly owned by China Aviation Industry General Aircraft Co., Ltd. (CAIGA). For additional information on Cirrus and its products, please visit Cirrus Aircraft.
About Hartzell Propeller Inc.
Hartzell Propeller is the leader in advanced technology propeller design and manufacturing with more than 3,700 propellers delivered annually to business, commercial and government customers. The company developed the next generation of propellers with innovative "blended airfoil" technology. It manufactures these blades using a combination of revolutionary machining centers and robotics. With its ASC-II™ composite technology, Hartzell provides mission-optimized performance for customers. Hartzell Propeller traces its beginnings in 1917 to a business relationship with Orville Wright and was founded on the principle of "Built on Honor" – a tradition that continues today. For more info go to hartzellprop.com.