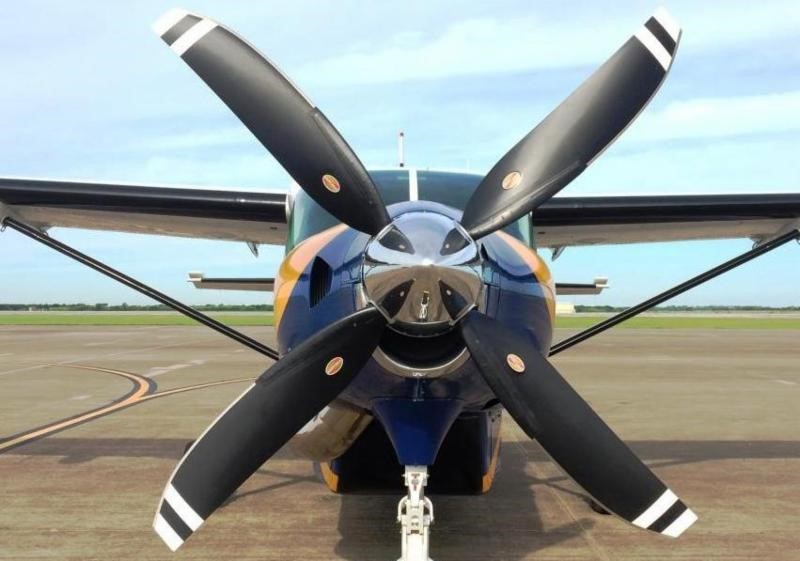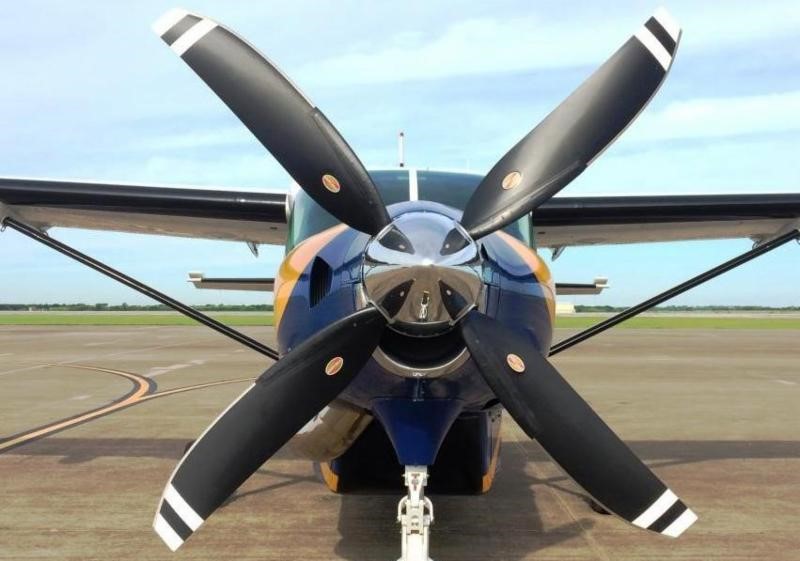 Piqua, Ohio, Sept. 5, 2017 – Airplane modifier Texas Turbine Conversions has received approval from the European Aviation Safety Agency (EASA) for Hartzell Propeller's four-blade composite swept prop designed specifically for single-engine Supervan 900™ aircraft.
"Building on positive U.S. customer acceptance of Hartzell's collaboration with Texas Turbine for Cessna Caravan engine conversions featuring new structural composite propellers this opens up dozens more countries for the performance upgrade," said Hartzell Propeller Executive Vice President JJ Frigge. "The 110-inch diameter propeller, 60 pounds lighter than the prop it replaces, blends advanced aerodynamics and sophisticated manufacturing processes to increase performance and deliver extraordinary reliability," he added.
"The 900 SHP Honeywell TPE331 engine on the Supervan 900 coupled with an optional new four-blade composite propeller from Hartzell gives the airplane a big performance bump, which will make converted Caravans even more useful in many countries," said Texas Turbine Conversions President Bobby Bishop. "Hartzell's four-blade, reversible, full-feathering propeller helps make the Supervan 900 the world's best performing Cessna Caravan."
100th Year in Business
Celebrating its 100th year, Hartzell Propeller is the global leader in advanced technology aircraft propeller design and manufacturing for business, commercial and government customers. The company designs next generation propellers with innovative "blended airfoil" technology and manufactures them with revolutionary machining centers, robotics and custom resin transfer molding curing stations.
With ASC-II™ composite technology, Hartzell delivers optimal performance, strength, and durability with carbon fiber blades. Hartzell Propeller and its sister company, Hartzell Engine Technologies LLC, form the general aviation business unit of Tailwind Technologies Inc. For more info on Hartzell Propeller go to www.hartzellprop.com.