Company Will Exhibit at Zhuhai Airshow
Shanghai City, China, Nov. 11, 2014 – Hartzell Propeller Inc. has received validated type certifications from the Civil Aviation Administration of China (CAAC) for Hartzell props flying on Beech King Air B200, Piaggio EVO and Daher-Socata TBM aircraft.
The company is exhibiting at Airshow China 2014, held Nov. 11-16 in Zhuhai. Hartzell's China- and U.S.-based personnel will be located in the U.S. Pavilion at 1B-T6B. Airshow China, which is endorsed by the Chinese central government, features aircraft, trade talks, technological exchanges and flying displays.
Working with CAAC
"Airshow China 2014 is an excellent venue to explain advantages of the latest developments in propeller aerodynamics and manufacturing techniques to the global aviation community," said Weiqing Wang, Hartzell Propeller Managing Director for China, based in Shanghai City.
"Hartzell Propeller's ongoing efforts in China are focused on working with aircraft manufacturers and the CAAC for advance approvals for propeller aircraft that are certified for operation in this country. We want to express our appreciation for the professionalism exhibited by CAAC representatives during this process," he added.

Hartzell Props for King Air B200
CAAC type certificate validation for the King Air B200 aircraft is for Hartzell Propeller's four-blade aluminum hub props with swept aluminum blades for retrofit by Raisbeck Engineering Inc. The Hartzell design and manufacturing expertise permits an increase in thrust while providing noticeably lower cabin noise.
Hartzell Props for Piaggio EVO
The five-blade propeller validation by CAAC covers highly swept wide-chord aluminum alloy propellers for the new Piaggio EVO. Hartzell worked with Piaggio to develop propellers that in conjunction with changes to the nacelle and engine exhaust geometry combine to reduce external noise by 68 percent. Passenger comfort is also improved by a cabin noise reduction of 20 percent, attributable in large measure to Hartzell's five-blade scimitar design.
Hartzell Props for TBM 700/850/900
CAAC also validated Hartzell composite, five-blade, swept-tip props for DAHER-SOCATA's new TBM 900 and as a retrofit for TBM 700 and 850 aircraft. In the single-engine TBM 700/850 Hartzell's aerospace-grade five-blade swept-prop generated as much as 10 percent faster takeoff acceleration, two knots higher cruise speeds, and 100-foot per minute better climb rate.
Hartzell's new TBM propellers also created measurably less noise in the cabin and at the airport compared to previous propellers. When compared to wood-grade propellers, the climb performance is even more pronounced and the cruise speed advantage goes up by as much as five knots.
Other China Activity for Hartzell Propeller
To support the increasing globalization of general aviation, Hartzell Propeller has established a dedicated Type Certificate Validation Department. The Validation Department is committed to developing enhanced professional relationships with the CAAC and other airworthiness authorities worldwide.
Recently, Hartzell also announced that the Civil Aviation Administration of China (CAAC) validated type certifications for Hartzell props flying on Cessna TTx and Mooney Acclaim aircraft. Hartzell Propeller's type certificate validation efforts have been a key element to meeting requirements for numerous aircraft to be approved for flight operations in China, including: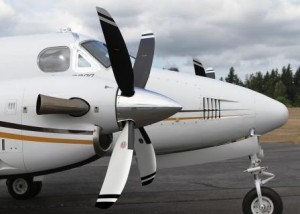 Air Tractor AT-802
Beechcraft Baron 58
Beechcraft Bonanza 36
Beechcraft King Air B200, 350
Cessna 208B, T240 (TTx)
Cirrus SR22, SR20
Daher-Socata TBM 700/850/900
Dornier 328
Gippsland GA8 Airvan
Hafei Y12F
Maule MXT-7-180
Mooney M20TN (Acclaim)
Nanjing AC-500 AirCar
Piaggio Avanti. EVO
Pilatus PC-6 Porter
Piper M-Class
Quest Kodiak 100
Thrush S2R-H80
Vulcanair P68

About Hartzell Propeller Inc.
Hartzell Propeller is the global leader in advanced technology propeller design and manufacturing with over 3,700 propellers delivered annually to business, commercial and government customers. The company designs these next generation propellers with innovative "blended airfoil" technology and manufactures them with revolutionary machining centers and robotics. With ASC-II™ composite technology, Hartzell delivers optimal performance, strength, and durability with carbon fiber blades.
Hartzell Propeller and its sister company, Hartzell Engine Technologies LLC, form the general aviation business unit of Tailwind Technologies Inc. This growing aerospace technology company also includes Hartzell Aerospace and Mayday Manufacturing. For more info on Hartzell Propeller go to hartzellprop.com.