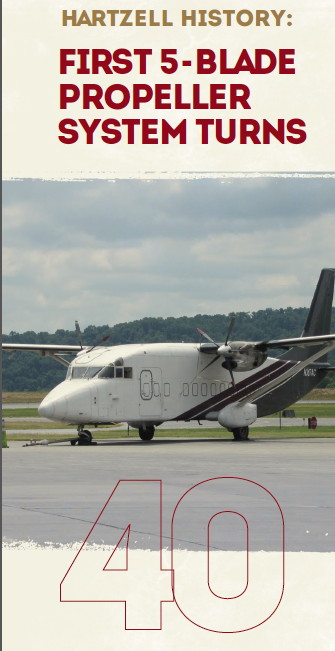 In August 1974, a prototype aircraft, designed by Short Brothers of Belfast, took to the sky for its maiden flight. The new propeller-driven airplane was dubbed the Shorts 330. It adapted the STOL abilities and rectangular body style of the successful Shorts Skyvan into an economical passenger turboprop capable of carrying up to 30 passengers. The original 330 was among the first generation of turboprop aircraft to utilize the venerated Pratt & Whitney PT6 engine.
In 1975, as the Shorts 330 transitioned from prototype to production-ready aircraft, Short Brothers and Hartzell Propeller formed a partnership with an ambitious goal: to make the Shorts 330 the first aircraft certified with a 5-blade propeller. Hartzell's engineering team delivered with a unique prop designed specifically for the high horsepower of the PT6. Needless to say, the design took off.
Hartzell shipped thousands of 5-blade propeller systems in the decades following the Shorts 330's success. Why have so many pilots and airplane manufacturers chosen 5-blade props? Increasing the number of blades on a propeller allows aircraft engineers to take advantage of powerful modern engines to increase performance.
Composite materials like Kevlar and carbon fiber reduce the amount of weight added by additional blades. In 2006, Hartz-ell introduced ASC-II Advanced Composite Propellers. These composite airplane propeller systems boast an improved strength- to-weight-ratio, meaning they are performing better than past 5-blade props without sacrificing safety.
The Hartzell team is passionate about pushing the boundaries of aviation technology. The industry has come incredibly far over the last 40 years, and we are dedicated to leading the way in the coming decades. Follow Hartzell on Facebook and Twitter to stay up-to-date with new technology, more bits of aviation history and news from around the world.
See the complete Hartzell history timeline at HartzellProp.com/history.