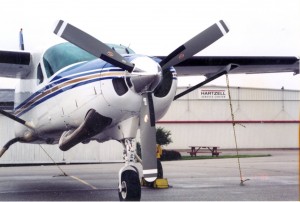 Hartzell Now Offers a Comprehensive Set of Four Different Conversion Kits
for Caravan Operators Including Optional Electric De-Ice and Start Locks.
 PIQUA, Ohio – February 18, 2004 – Hartzell Propeller Inc. announced today that its increasingly popular high performance three-bladed Top Prop™ propeller kits for the 208, 208A Caravan and 208B Grand Caravan are available with optional start locks. This option was developed in response to requests received from several seaplane operators.  Start locks prevent the blades from entering feathered condition after shut down. On start up, this feature allows for the elimination of thrust and any unwanted aircraft movement … which is particularly desirable and helpful for aircraft operating on floats.  This is the only propeller available for the Caravan with factory installed start locks.
Overall, the Top Prop™ kit's feathering and reversing propeller is 106 inches in diameter and features three newly designed aluminum blades with wide-chord, high-camber airfoils. The propeller blade was custom designed for utility aircraft applications. The design provides excellent low-speed thrust while maintaining cruise performance. The propeller also features Hartzell's proven steel hub system which many Caravan operators will be familiar with, as this system served them well when it was used on the original Hartzell composite-bladed Caravan prop. The entire propeller was specifically engineered to reduce overall operating costs. This was accomplished in a variety of ways:
Low acquisition cost – With a basic list price of $19,000, $20,000 including start locks, $20,400 including de-ice, and $21,400 including start locks and de-ice. Each of these Hartzell kits represent the lowest cost Caravan propellers available today.
Wide-chord blades – the propeller system features wide-chord blades that were specifically tested to allow the greatest reparability of any Caravan prop on the market. As a result… operators can expect an extended service life, particularly for those operating in and out of unimproved runways or on floats.
Simplified installation – The Top Prop kit was designed so there are no de-ice timer, ammeter, wiring or circuit breaker changes required for installation.
Steel hub system – this hub design allows blades to be easily removed for reduced shipping costs.
The Top Prop kit for the Caravan includes the three-bladed propeller, a polished spinner, STC documentation, extended 3-year/1000 hour warranty as well as optional start locks and de-ice capabilities.
For more information about Hartzell's Cessna Caravan propeller conversion kits or any other Top Prop performance conversion, visit the Top Prop section of the Hartzell Web site at www.hartzellprop.com, or call toll free (800) 942-7767 or (937) 778-5726. Fax your request to Hartzell at (937) 778-4215 or email topprop@hartzellprop.com.
Hartzell Propeller Inc. is widely recognized as the leader in advanced propeller design and manufacturing technology. NASA has recognized Hartzell's advanced design capability by naming it the exclusive propeller partner for its General Aviation Propulsion (GAP) program. The company has recently developed the next generation of propeller designs based upon innovative "blended airfoil" technology and is manufacturing these blades on revolutionary machining centers to provide mission optimized performance for its customers. Hartzell traces its beginnings in 1917 to a relationship with Orville Wright and was founded on the principal of Built on Honor – a tradition that continues today.  For more information visit the company on the Web at www.hartzellprop.com