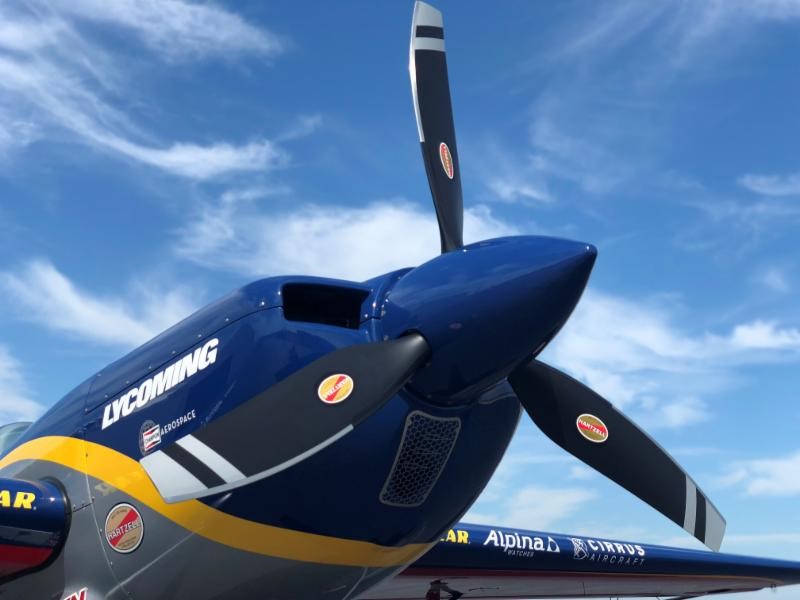 Piqua, Ohio, July 20, 2018 – Famed aerobatic and Red Bull Air Race Pilot Michael Goulian is Hartzell Propeller's launch customer for the Talon, the next generation of enhanced aerodynamic prop manufactured with Hartzell's patented ASC-II™ resin transfer carbon fiber process.
The specially designed performance propeller will make its first public appearance when Mike Goulian and the Goulian Aerosports team perform with the three-blade prop installed on their Extra 330SC aircraft at EAA AirVenture Oshkosh. Goulian will perform Wednesday, Saturday and Sunday during the world's largest gathering of general aviation enthusiasts, July 23-29.
"With its carbon fiber construction, Hartzell's new Talon propeller has the same proven reliability as the Claw, while delivering even higher performance. The world famous Claw has been the choice of aerobatic performers for decades. We expect the Talon to be the choice for decades to come" said Hartzell Propeller President Joe Brown. "Michael is the ideal launch customer as his precision flying and pursuit of the ultimate in performance is legendary."
"I have made a living flying Hartzell props in aerobatic shows and very competitive air races for years," said Michael Goulian.  "My flights with Hartzell's new Talon showed an increase in performance while also contributing to crisper execution of the aerobatic maneuvers that are the hallmark of my show. The smoothness and responsiveness of this new propeller is second to none."
Goulian Aerosport's Talon-equipped aerobatic Extra 330SC will be on display at Hartzell's EAA AirVenture Booth 296-297 in the Main Aircraft Display Area at 10 am on Thursday during the show. Goulian will be available at that time to sign autographs and visit with fans.
The Talon's new and improved aerodynamic design utilizes Hartzell's ASC-II™ manufacturing process, which represents an evolution beyond the original Claw propeller.  The first-generation Claw used a legacy composite compression mold with a combination of carbon and Kevlar, while the next generation Talon features a new enhanced aerodynamic design coupled with Hartzell's state of the art ASC-II™ resin transfer carbon fiber process.
Hartzell's Talon kit for the Extra 330SC is now available broadly and includes the 3-blade propeller and a carbon composite spinner.  Warranty coverage extends through the first overhaul interval, which is 6 years, 1,000 hours for aerobatic propellers.  Contact Hartzell Propeller (www.hartzellprop.com) for more information.
Goulian Aerosports is a professional air show and air race team that performs at air shows in the USA and competes globally in the Red Bull Air Race World Championship.