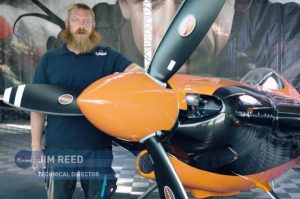 Piqua, Ohio, Sept. 20, 2016 – The Red Bull Air Race World Championship and Hartzell Propeller will be bring the exciting race series to the United States in October, for championship races in Indianapolis and Las Vegas as the series wraps up its international schedule.
For the third consecutive year, Hartzell Propeller is the propeller technical partner for the Red Bull Air Race World Championship. Hartzell provides its three-blade structural composite propeller known as "The Claw," carbon fiber composite spinners, and lightweight governors to every competitive Red Bull Air Race team.
Red Bull Air Race has released a video featuring its Technical Director Jim Reed explaining why Hartzell's Claw propeller is the perfect choice for the very competitive and demanding air race circuit and why it performs so well for pilots flying fast split second maneuvers. For the video go to http://hartzellprop.com/tech-talk-race-plane-propellers/.
"We are excited that participation in the Red Bull Air race highlights our aerobatic technology," said Hartzell President Joe Brown. "The Claw earned its pedigree in high time regional airline service. We took the shank out of the rugged propeller system on the Beechcraft 1900D and put it in a little tiny aerobatic system and the result is a lot of muscle for the exceptional pilots that fly in these races."
The penultimate race of the season will be Oct. 1-2 when the Red Bull Air Race premieres at Indianapolis Motor Speedway. The season finale happens Oct. 15-16 in Las Vegas, where the 2016 World Champion will be crowned at the Las Vegas Motor Speedway.
Earlier races on the 2016 circuit have included U.A.E., Austria, Japan, U.K., Hungary and Germany. For more information on tickets or the latest information, visit  www.redbullairrace.com.
About Hartzell Propeller
Hartzell Propeller is the global leader in advanced technology aircraft propeller design and manufacturing for business, commercial and government customers. The company designs next generation propellers with innovative "blended airfoil" technology and manufactures them with revolutionary machining centers, robotics and custom resin transfer molding curing stations. With ASC-II™ composite technology, Hartzell delivers optimal performance, strength, and durability with carbon fiber blades.
Hartzell Propeller and its sister company, Hartzell Engine Technologies LLC, form the general aviation business unit of Tailwind Technologies Inc. The aerospace technology company also includes Hi-Tech Metal Finishing and Mayday Manufacturing. For more info on Hartzell Propeller go to hartzellprop.com.