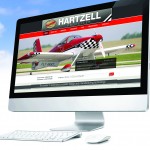 Lakeland, Florida (April 9, 2013) – Hartzell Propeller today announced the debut of their new website, www.hartzellprop.com at the Sun 'n Fun International Fly-In and Expo in Lakeland, Florida. The new Hartzell Propeller website is the culmination of nine months of market research and strategy aimed to provide each of the diverse Hartzell audiences quick, easy access to information they need.
Joe Brown, President of Hartzell Propeller, welcomes the change, saying, "There is no such thing as a typical Hartzell customer. We serve everyone from pilots to mechanics to kit builders.  So we felt that this new website had to have something for everyone. It had to be easy to navigate for each one of our customer groups."
Aside from the easier navigation, the new www.hartzellprop.com features one-click access to the Hartzell Service Center located at the company's headquarters in Piqua, Ohio. It also features an enhanced Top Prop section and a substantial online reference library with access to hundreds of categorized documents, forms, and manuals.
For the aviation enthusiast, new features include "Arrivals and Departures," a blog specifically geared to the aviation community, a collection of Hartzell Propeller videos, and an illustrated company history timeline that dates back to the company's origins tied to Orville Wright in 1917.
According to Brown, "We love aviation and the community that surrounds it. We want this website to be welcoming to everyone in that community."
Hartzell Propeller is widely recognized as the leader in advanced propeller design and manufacturing technology. The company has developed the next generation of propellers based upon innovative "blended airfoil" technology and is manufacturing these blades using a combination of revolutionary machining centers and robotics; and with its new ASC-II™ composite technology, to provide mission-optimized performance for its customers. Hartzell Propeller was founded on the principle of "Built on Honor" – a tradition that continues today.