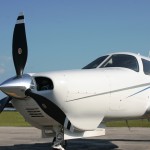 Piqua, Ohio, July 15, 2013….Hartzell Propeller Inc. and its sister company Hartzell Engine Technologies are partnering with the IMC Club to sponsor an IFR Proficiency Center from Monday, July 29 through Friday, August 2 during AirVenture 2013 (Oshkosh).
Hartzell has secured a flight-line tent where the IMC Club will host daily IFR "brain teasers" in interactive forums followed by lunch for up to 100 guests.  The sessions are open to IFR rated pilots or those in training.  Admission begins at 10:45 each day.
Joe Brown, Hartzell Propeller president said, "Flying IFR proficiently is a great satisfaction.  It takes work to get better and learning from others is essential.  IMC Club fills a void a lot of us IFR pilots face after we get our rating: an opportunity for continuous learning and mentoring."
The daily IFR "brain-teasers" and lunch will take place at Hartzell's IFR Proficiency Center, located immediately south of show center on the flight line.
Guest hosts are featured at the IFR sessions and luncheons, which are limited to 100 visitors daily:
– MONDAY 7/29         Guest Host, Mac McClellan, EAA
– TUESDAY 7/30        Guest Host NTSB Member, Earl Weener
– WEDNESDAY 7/31 Guest Host Radek Wyrzykowski, president, IMC Club International
– THURSDAY 8/1       Guest Host Mike Goulian, airshow pilot and ATP
– FRIDAY 8/2              Guest Host Robert Goyer, Editor-in-Chief, Flying Magazine
J.J. Frigge, executive vice-president of Hartzell Propeller, added, "This venue is perfect for raising the visibility of IFR proficiency. For a week Oshkosh is home to more than half a million aviation enthusiasts and we intend to keep building on the idea."
As an additional outreach to pilots, Hartzell invites pilots and their guests to view the daily air show, 2 pm – 6 pm, from the Hartzell IFR Proficiency Center. Invitations to the Hartzell IFR Proficiency Center, both for the daily IFR "brain teasers" and air show viewing are available throughout the Airventure grounds. Invitations may be picked up at the Hartzell Propeller and Hartzell Engine Technologies booths in Building A. Invitations are also available at the static display exhibits of all OEM manufacturers of IFR capable aircraft.
IMC Club's intent is to create a community of pilots in order to share information, provide recognition, foster communications, promote safety and build proficiency in instrument flying.
Hartzell Propeller is widely recognized as the leader in advanced propeller design and manufacturing technology. The company has developed the next generation of propellers based upon innovative "blended airfoil" technology and is manufacturing these blades using a combination of revolutionary machining centers and robotics; and with its new ASC-II™ composite technology, to provide mission-optimized performance for its customers.