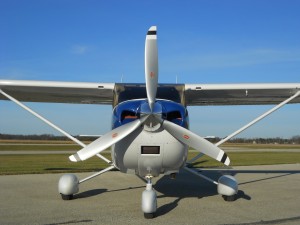 Piqua, Ohio – May 14, 2012. Hartzell Propeller Inc. has received an FAA Supplemental Type Certificate (STC) for a 3-bladed propeller conversion kit for the Cessna 182S, 182T Skylane, T182T Skylane TC, up through models in current production. The conversion kit provides Cessna Skylanes with improved performance, appearance, and decreased noise signatures.
The new Hartzell Top Prop kit features 82-inch diameter, swept tip, "blended" airfoil Scimitar-shaped aluminum alloy blades. These not only increase the aircraft's ramp appeal but also provide an 8.5% improvement in climb performance over the original propeller and a better cruise performance by 2 to 4 knots. Noise emission is at a globally accepted level of 77.5 dB (a) as measured by the latest FAA and international standards. Compatible de-icing kits, which include de-icing boots and harnesses, are available as optional equipment.
Top Prop program manager Mike Trudeau said, "Top Prop conversions are one of the easiest and most economically efficient methods for improving the value and productivity of an aircraft."
He added, "With this new conversion, Hartzell's Top Prop family continues to grow as the largest and most complete propeller conversion offerings in the world. Currently more than 70 different Beechcraft, Cessna, Commander, Diamond, Mooney, Piper, and SOCATA propeller kits are available."
Available directly from Hartzell or through Hartzell's Top Prop dealers, the 2012 list price for these kits, which include new, polished, pointed aluminum spinners, is $11,300, or $12,200 with de-icing equipment. The new propeller carries the exclusive Hartzell Plus3 warranty, which delivers a full three years or 1000 hours of coverage, and has a six-year/2400-hour TBO.
Hartzell Propeller is widely recognized as the leader in advanced propeller design and manufacturing technology. The company has developed the next generation of propellers based upon innovative "blended airfoil" technology and is manufacturing these blades using a combination of revolutionary machining centers and robotics; and with its new ASC-II™ composite technology, to provide mission-optimized performance for its customers.
Hartzell Propeller traces its beginnings in 1917 to a business relationship with Orville Wright and was founded on the principle of "Built on Honor" – a tradition that continues today.