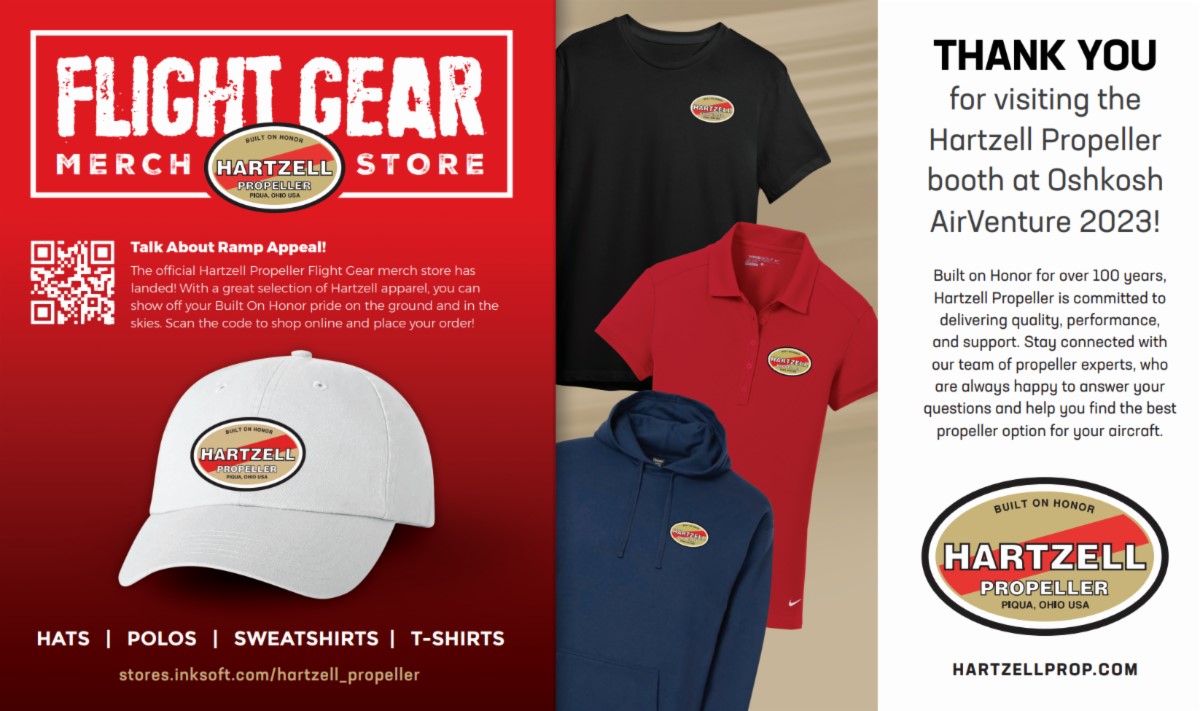 OSHKOSH, Wis., July 18, 2023 – Hartzell Propeller has launched a new Hartzell Flight Gear Merch Store with a wide selection of Hartzell-branded t-shirts, sweatshirts, vests, polos, and hats. The new online store (https://stores.inksoft.com/hartzell_propeller/shop/home) is the only place to purchase official Hartzell Propeller apparel and accessories.
"With thousands and thousands of propeller customers, very many have asked about the availability of Hartzell-branded apparel, so we listened," said company president JJ Frigge. "To express our appreciation for the flying community, we have opened our online merchandise store, and are also offering a special, limited-edition t-shirt available for purchase only at EAA AirVenture Oshkosh 2023 – while they last."
Profits From Backcountry Flying-Inspired T-Shirt Go to Recreational Aviation Foundation.
The specially commissioned Oshkosh 2023 t-shirt features a colorful design inspired by the freedom of backcountry flying and the mission of the Recreational Aviation Foundation (RAF) to preserve, improve, and create airstrips for recreational access. It also commemorates Hartzell Propeller's success with its Top Prop offerings.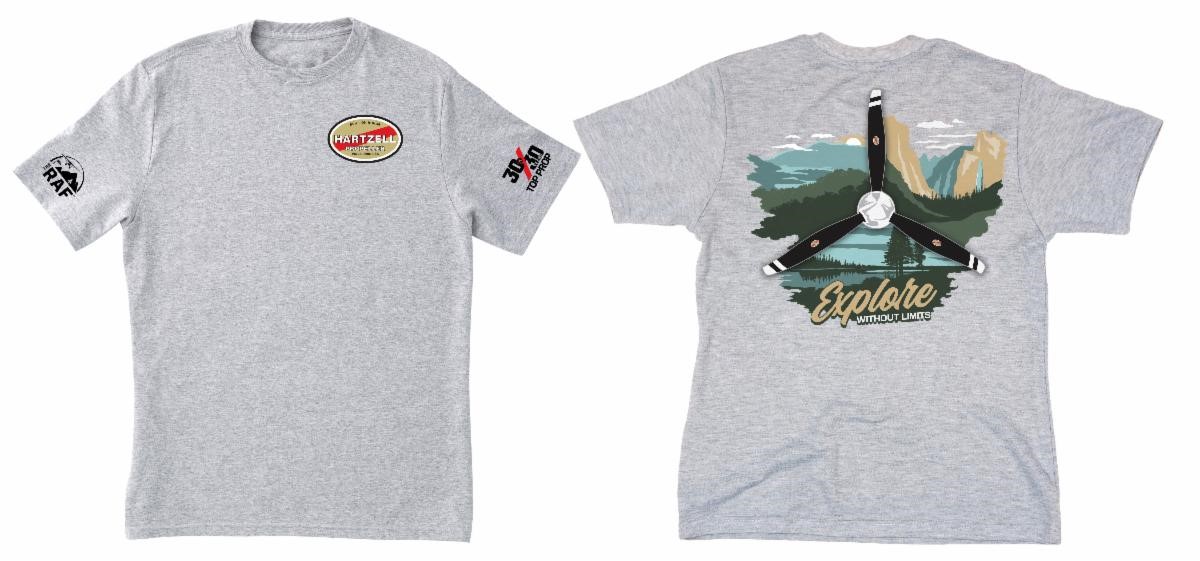 Visit Hartzell Propeller's EAA AirVenture Oshkosh 2023 booth (296/297) beginning Monday, July 24 at AirVenture to purchase the special t-shirt while supplies last, available for $20, cash only. All profits from the sale of the limited release t-shirt will be donated directly to RAF's mission supporting backcountry flying access. 
Hartzell Aviation's flagship company is Hartzell Propeller, the global leader in advanced technology aircraft propeller design and manufacturing for business, commercial and government customers. The company designs next-generation propellers with innovative blended airfoil technology and manufactures them with revolutionary machining centers, robotics, and custom resin transfer molding curing stations. For more information go to https://hartzellprop.com. 
About Hartzell Aviation
The Hartzell Aviation name brings together an outstanding array of firewall forward companies and products under one umbrella, reinforcing the organizations' core competencies and pursuit of improving General Aviation. The storied brands of Hartzell Aviation include Hartzell Propeller, Hartzell Aerospace Welding and Hartzell Engine Tech. Hartzell Aviation is committed to innovation and the continuous improvement of General Aviation products and services. The companies are guided by the overriding principle of Built on Honor, which reflects a commitment to quality, performance and support. Hartzell Aviation's website can be found at https://hartzellaviation.com.