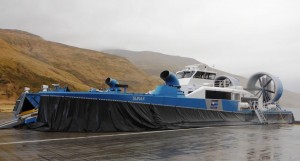 Piqua, Ohio, June 12, 2014 – Hartzell Propeller's six-bladed structural composite propellers have been certified by the U.K.'s Maritime and Coast Guard Agency for Griffon Hoverworks BHT 130 passenger watercraft. Hartzell's props are the first certified structural composite hovercraft propellers.
"A hovercraft air cushion vehicle is flown by a pilot instead of a sea captain and Hartzell Propeller's aviation experience and technology are transferable to such seafaring vessels," said Hartzell Propeller President Joe Brown. "Actually, the unlimited life propellers that Hartzell developed for the Griffon Hoverworks BHT 130 are a derivative design of propellers flown today on Dornier 328 commuter airliners."
Sea trials were conducted on a twin-engine powered British Hovercraft Technology (BHT) ship in the Solent, the strait separating the Isle of Wight from the English mainland near Southampton in the U.K. The trials, which lasted nearly five weeks, tested performance, propeller stresses, operability, function and endurance of the 11.5-foot diameter unlimited life composite propeller blades.
The new Hartzell Propeller six-bladed props measurably improved performance with a 10 percent reduction in fuel consumption and reduced operating noise. The Hartzell system is designed to replace heavier wooden propellers, which are less reliable. Weight savings of Hartzell's hovercraft propeller is more than 100 pounds per prop compared to older technology.
About Hartzell Propeller Inc. – hartzellprop.com
Hartzell Propeller is the leader in advanced technology propeller design and manufacturing, with more than 3,700 propellers delivered annually to business, commercial, and government customers. The company developed the next generation of propellers with innovative blended airfoil technology. It manufactures these blades using a combination of revolutionary machining centers and robotics. With its ASC-II™ composite technology, Hartzell provides mission-optimized performance for customers. Hartzell Propeller traces its beginnings in 1917 to a business relationship with Orville Wright and was founded on the principle of "Built on Honor" – a tradition that continues today.