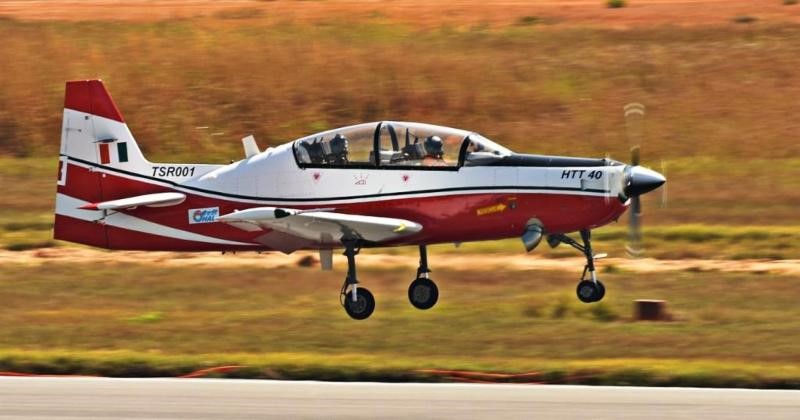 Piqua, Ohio, Jan. 30, 2017 — Hartzell Propeller's four-blade lightweight aluminum propeller has been selected by Hindustan Aeronautics Ltd. (HAL) for its HTT-40 two-place turbine basic trainer aircraft.
The new indigenous HTT-40 is designed and built by HAL under the country's Make In India initiative. The HTT-40 will replace the piston-powered HPT-32 Deepak trainer for the Indian Air Force.
Hindustan Aeronautics is manufacturing three prototypes and two static test specimens with production activities to begin this year. Certification of the HTT-40 (Hindustan Turboprop Trainer-40) is expected in 2018. Flight testing will include 350 flights.
"Hartzell Propeller is honored to add this new clean sheet aircraft from Hindustan Aeronautics to our growing list of aircraft from the world's leading manufacturers for both civilian and military applications," said Hartzell Propeller Executive Vice President JJ Frigge.
The new HTT-40 is powered by the Honeywell TPE331-12B turboprop engine. Designed to meet pilot training requirements of the Indian Air Force, the new military aircraft also will have provisions for weaponization.
The initial order from the Indian Air Force is for 68 aircraft. Total requirements could eventually rise to 120 of the basic turbine trainers for the Indian Air Force.
A HTT-40 outfitted with Hartzell's four-blade lightweight aluminum prop will be exhibited at the HAL display at Aero India 2017, held Feb. 14-18 at Air Force Station, Yelahanka,  Bengaluru. Hartzell Propeller will also have a booth with experts on hand to discuss propeller technical details.
About Hindustan Aeronautics Limited
Hindustan Aeronautics Limited is an Indian state-owned aerospace and defence company based in Bangalore, Karnataka. It is governed under the management of the Indian Ministry of Defence. The government-owned corporation is primarily involved in the operations of the aerospace industry. These include manufacturing and assembly of aircraft, navigation and related communication equipment and airports operation.
HAL built the first military aircraft in South Asia. It is currently involved in the design, fabrication and assembly of aircraft, jet engines, helicopters and their spare parts. It has several facilities spread across India. Hindustan Aeronautics has a long history of collaboration with international and domestic aerospace agencies such as Airbus, Boeing, Lockheed Martin, Sukhoi Aviation Corporation, Elbit Systems, Israel Aircraft Industries, RSK MiG, BAE Systems, Rolls-Royce plc, Dassault Aviation, MBDA, EADS, Tupolev, Ilyushin Design Bureau, Dornier Flugzeugwerke, the Indian Aeronautical Development Agency and the Indian Space Research Organisation.
About Hartzell Propeller
Hartzell Propeller is the global leader in advanced technology aircraft propeller design and manufacturing for business, commercial and government customers. The company designs next generation propellers with innovative "blended airfoil" technology and manufactures them with revolutionary machining centers, robotics and custom resin transfer molding curing stations. With ASC-II™ composite technology, Hartzell delivers optimal performance, strength, and durability with carbon fiber blades. Hartzell Propeller and its sister company, Hartzell Engine Technologies LLC, form the general aviation business unit of Tailwind Technologies Inc. For more info on Hartzell Propeller go to hartzellprop.com.