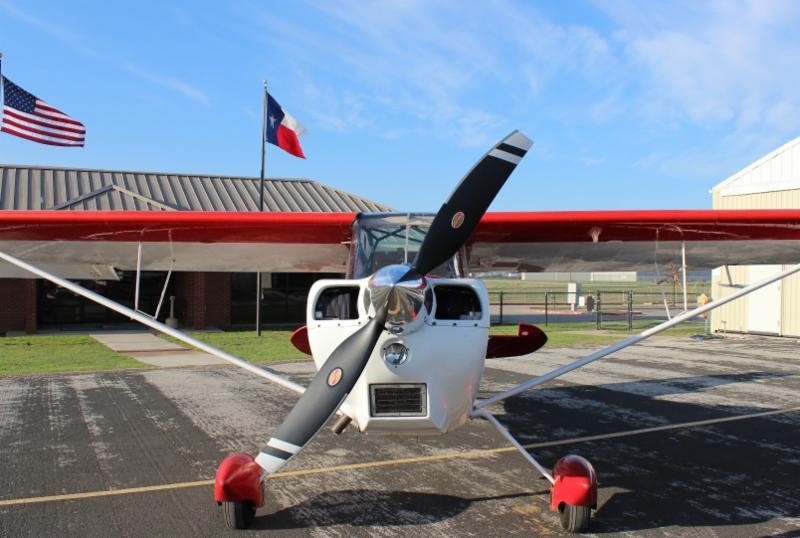 Piqua, Ohio, July 27, 2018 – Hartzell Propeller's carbon fiber composite two-blade Trailblazer prop has received a Supplemental Type Certificate (STC) for American Champion Aircraft's Super Decathlon aerobatic tandem two-seat tail dragger.
Offered as a new aircraft option by American Champion, the 76-inch diameter Hartzell Trailblazer is also available under Hartzell's Top Prop program for retrofitting on the Super Decathlon fleet, which is capable of aerobatic stresses between +6g and -5g. The Trailblazer's light weight and the composite materials result in a smooth operation designed for the ultimate in aerobatic performance in conjunction with Lycoming AEIO-360-H1A and -H1B 180 hp engines with inverted fuel and oiling systems.
"Working with American Champion we found that the Hartzell Trailblazer integrates nicely with the Super Decathlon and performs exceptionally well," said Hartzell President Joe Brown. "Now Super Decathlon owners and operators have an ASCII Carbon fiber Hartzell Trailblazer to enhance both their airplanes and their aerobatic skills. As with other Trailblazer installations, the propeller provides performance increases across the entire flight spectrum and is exceptionally smooth and responsive."
Trailblazer constant speed composite props for the Super Decathlon are in stock and available for immediate delivery. Pricing for the propeller kit is $17,733 plus freight and includes the prop and aluminum spinner.  The 2-blade Trailblazer will be on display at the American Champion booth at 2018 EAA AirVenture Oshkosh, July 23-29, on the front of a factory new Super Decathlon.
Beginning its second century, Hartzell Propeller is the global leader in advanced technology aircraft propeller design and manufacturing for business, commercial and government customers. The company designs next generation propellers with innovative "blended airfoil" technology and manufactures them with revolutionary machining centers, robotics and custom resin transfer molding curing stations.
 With ASC-II™ composite technology, Hartzell delivers optimal performance, strength and durability with carbon fiber blades. Hartzell Propeller and its sister company, Hartzell Engine Technologies LLC, form the general aviation business unit of Tailwind Technologies Inc. For more info on Hartzell Propeller, go to www.hartzellprop.com.
About American Champion Aircraft
American Champion Aircraft produces FAA certified light acrobatic and utility aircraft for pleasure, work, training, and true excitement. The long-standing design has proven stable and comfortable for more than 50 years. The aircraft are a stronger, better built, better handling aircraft because of generations of refinement. The privately-owned company that produces the Champion Line today assures that the planes are built right, and not under the pressure of corporate cost / profit / production projections.