Piqua, Ohio, July 14, 2014 – Customer demand for the new Hartzell Propeller advanced swept airfoil five-blade prop for retrofit on TBM 700/850 aircraft has been robust. It is the same propeller that comes as standard equipment on new DAHER-SOCATA TBM 900 aircraft, which has also been in high demand.
Since the new structural composite propeller received its STC from the FAA in February for installation on TBM 700/850 aircraft, the company's dealers have been retrofitting about five aircraft per month, which is ahead of company projections. The new five-blade propeller has also been approved by EASA for European operations.
"Feedback from all of the TBM owners who are now flying the newest propeller design from Hartzell Propeller is very positive," said Joe Brown, company president. "They are reporting 10 percent shorter takeoff roll, faster climb, faster cruise, quieter cabins, smoother rides and shorter stopping distances."
International Trip Experience
Ralph & Carole Ragland of Houston, Texas, installed the new Hartzell composite five-blade prop on their TBM 850 a few weeks before departing on a month-long flying journey through Central and South America.
"We had no hesitation about making such a long trip out of the U.S. because of our confidence in Hartzell and SOCATA. Our journey included stops in over seven countries," said Ralph Ragland.
"We flew almost 40 hours and over 11,000 miles enjoying seamless operation and great performance from our new prop without a problem. In fact, the prop performed just as Hartzell advertised – greater acceleration, improved climb and cruise, and quieter operation. The increase in airspeed of three to four knots is significant and a shorter takeoff and landing distance certainly adds a comfort level when needed," he added.
"Bottom line – no regrets. The prop is a great investment and enhancement to our TBM," Ragland said.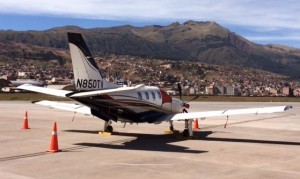 Composite Advantages
Carbon composite, due to its incredible strength and light weight, allowed Hartzell to optimize blade chord thickness and sweep while achieving maximum strength. The strong structural composite construction of the carbon fiber blades and their sleek aerodynamic design boosts the TBM's already impressive performance.
With the new Hartzell propeller, TBM 700/850 takeoff acceleration from zero to 90 knots is 10 percent faster than with any other available propeller. Hartzell's advanced propeller also provides for hundreds of feet-per-minute faster climb. Cruise is two or more knots faster than the Hartzell four-blade metal prop and a full five knots faster than a less-advanced five-blade wood-based propeller option. The new Hartzell five-blade prop is also significantly quieter in the cabin and in the pattern.
Hartzell's proprietary resin-injected carbon fiber blades are five to 10 times stronger than beech wood and spruce construction. The thinner airfoil, which is possible due to carbon fiber's greater strength, makes the improved TBM performance possible.
The new five-blade design features a state-of-the-art composite wedge retention into its stainless steel alloy shank rather than the more rudimentary aluminum and lag screw construction used in lower performing propellers. Hartzell incorporates an innovative nickel erosion mesh and field replaceable nickel-cobalt erosion shield to prevent foreign object damage.
Hartzell offers the new prop with a Plus 3" warranty, which covers the propeller for a full three years or 1,000 hours and a 3,600-hour/six-year TBO (Time Between Overhaul). The new propeller is available directly through Hartzell's Top Prop conversion program (hartzellprop.com) or through DAHER-SOCATA's distributor network: (tbm850.com/Support-Network).
About Hartzell Propeller Inc.
Hartzell Propeller is the leader in advanced technology propeller design and manufacturing with more than 3,700 propellers delivered annually to business, commercial and government customers. The company developed the next generation of propellers with innovative blended airfoil technology. It manufactures these blades using a combination of revolutionary machining centers and robotics. With its ASC-II™ composite technology, Hartzell provides mission-optimized performance for customers. Hartzell Propeller traces its beginnings in 1917 to a business relationship with Orville Wright and was founded on the principle of Built on Honor – a tradition that continues today. For more info go to hartzellprop.com.