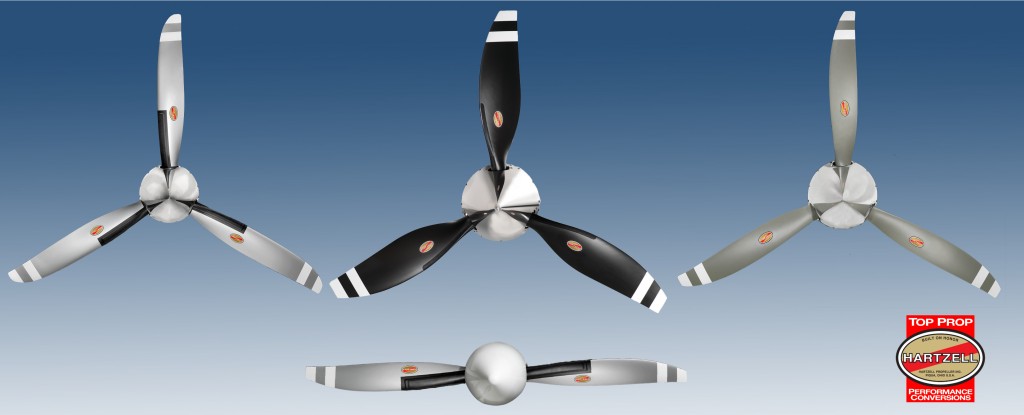 Piqua, Ohio, July 29, 2013…..Hartzell Propeller's industry-leading 'Top Prop' line of STC'd    two-, three-, and four-bladed constant-speed propeller conversions has reached  the significant milestone of 20,000 unit sales as of July,  2013.
The Top Prop™ program was launched in 1991 to offer new, state of the art, alternative replacement propellers for the maturing fleet of piston-engine aircraft.  The plan was to offer improved 3-blade replacements for original factory installed 2-blade propellers, improving performance, reducing prop diameter and noise, and increasing ground clearance.  The program's Initial offerings were a three-blade conversion for the Mooney M20, Piper Arrow, and Cessna Cardinal RG. These "Original Three" kits are still offered in the current Top Prop catalog.
Over the years, with advances in airfoil design, manufacturing capability, and construction technology, the opportunities to offer improvements have broadened to include scimitar shaped, "blended" airfoils, and the very latest in carbon fibre construction technology.  STCs have since been continually added from Hartzell's archives, and by acquisitions.  New advanced kits have been developed using the best FAA Designees, and by Hartzell's own engineering department that currently maintains its own FAA STC-ODA, (Organizational Delegation Authority).
Today, that Top Prop catalog has grown to more than 65 company-owned STCs, and over 170 different conversion kits, making the after-market STC kit line-up one of the more commercially visible sectors of the company, and the most successful line of after-market, constant-speed propeller performance conversions in the world.
Mike Trudeau, director of the Top Prop program, enthused about the success his team has enjoyed in the global marketplace, saying, "Each Top Prop adds performance and value to candidate airplanes; perhaps more than any other performance enhancement available.  We are looking forward to serving our customers – and potential customers – for many more years; the next 20,000 units should prove exciting."
Hartzell Propeller is widely recognized as the leader in advanced propeller design and manufacturing technology. The company has developed the next generation of propellers based upon innovative "blended airfoil" technology and is manufacturing these blades using a combination of revolutionary machining centers and robotics; and with its new ASC-II™ composite technology, to provide mission-optimized performance for its customers.
Hartzell Propeller traces its beginnings in 1917 to a business relationship with Orville Wright and was founded on the principle of "Built on Honor" – a tradition that continues today.