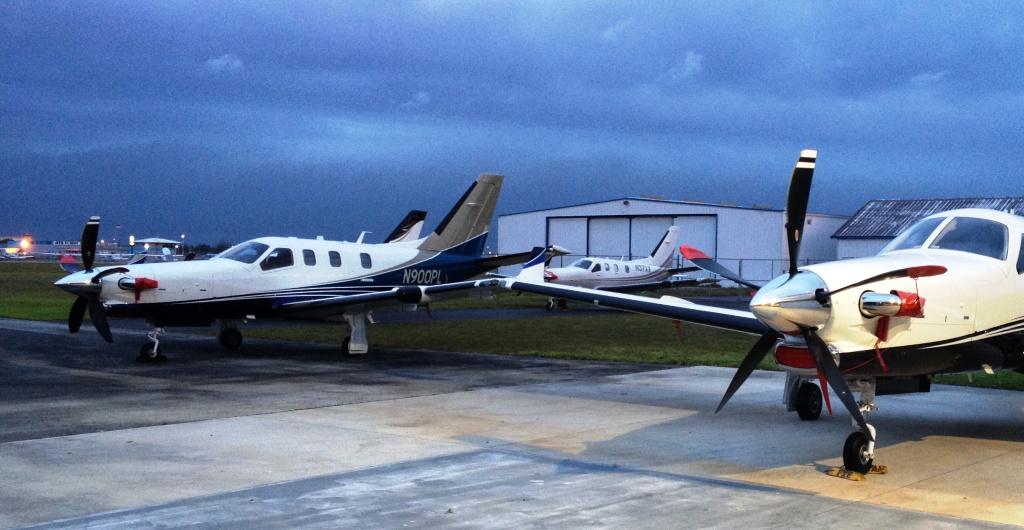 Piqua, Ohio, Oct. 15, 2014 – Hartzell Propeller developmental activities for the company's performance-boosting five-blade, swept-tip carbon fiber propellers will be featured at the 2014 National Business Aviation Association (NBAA) Convention in Orlando, Fla., Oct. 21-23, booth 1817. Hartzell is working on several other yet-to-be-announced composite five-blade programs for turboprop business aircraft.
DAHER-SOCATA's new TBM 900 features the same Hartzell composite, five-blade, swept-tip props that are available for TBM 700/850 aircraft as a retrofit STC. With field installations already underway for the TBM 700/850 series, Hartzell Propeller is focusing its efforts on future structural composite developmental projects.
"Aviators will be seeing more of these true composite, highly engineered propellers on additional business aircraft in the future. We are delighted to be able to bring the latest propeller designs to NBAA, where the business aviation community will quickly recognize the performance advantages of the latest in propeller aerodynamics, engineering and manufacturing expertise," said company President Joe Brown.
"These new swept five-blade carbon fiber props by Hartzell Propeller are a great way to quickly increase takeoff, climb and cruise performance, reduce noise and invigorate ramp appeal," Brown said.
Advanced Composite Materials and Aerodynamics
Hartzell Propeller has invested heavily in its structural composite propeller center of excellence, developing aggressive-looking five-blade propellers. Hartzell props feature modern aerospace conforming materials that include carbon fiber and epoxy resins and are produced on state of the art automated manufacturing equipment.
The material choices enable aerodynamic design innovations that feature thin, wide chord or high aspect ratio, maximum efficiency airfoils giving Hartzell's new turboprop propellers significantly increased performance. Hartzell's five-blade composite propellers outperform other propellers because of the improved aerodynamics enabled by the high strength material.
Hartzell's five-blade propellers provide lower in-flight vibration and they produce greater static thrust for better take-off and climb performance. Through optimized aerodynamic design, the low-end performance is in concert with improved cruise performance. The larger surface area and blockage effect of five-blade propellers provide quicker descents resulting in smoother touchdowns with less float.
In the single-engine TBM 700/850 Hartzell's modern five-blade swept-prop generated as much as 10 percent faster takeoff acceleration, two knots higher cruise speeds, and 100-foot per minute better climb rate, along with measurably less noise in the cabin and at the airport compared to previous propellers. When compared to wood-based propellers, the climb performance is even more pronounced and the cruise speed advantage goes up by as many as five knots.
Aerospace-Grade Strength & Superior Wedge Shank Design
Hartzell's epoxy resin-injected carbon fiber blades have a tensile strength of 175 ksi (kilopound-force per square inch) compared to propellers made of beech wood (39 ksi) and spruce (8.7 ksi) construction. That means Hartzell's aerospace-grade carbon fiber blades are five to 10 times stronger than wood-grade propeller blades.
Hartzell's new five-blade design features a state-of-the-art composite wedge retention into its stainless steel alloy shank rather than the aluminum and lag screw construction used in other designs. Hartzell incorporates an innovative nickel erosion mesh and field replaceable nickel-cobalt erosion shield to minimize foreign object damage.
Legacy of Performance
Hartzell's latest propeller advancements continue a heritage of designing and manufacturing props that result in exceptional performance when mated to speedy airframes. Among the world's fastest propeller airplanes, many sport Hartzell propellers, including the fastest civilian twin turboprop Piaggio Avanti, fastest piston twin Piper Aerostar Super 700, fastest turboprop single Pilatus PC-21, fastest civilian turboprop single TBM 900 and the fastest single-engine piston Mooney Acclaim.
About Hartzell Propeller Inc.
Hartzell Propeller is the leader in advanced technology propeller design and manufacturing with more than 3,700 propellers delivered annually to business, commercial and government customers. The company developed the next generation of propellers with innovative "blended airfoil" technology. It manufactures these blades using a combination of revolutionary machining centers and robotics. With its ASC-II™ composite technology, Hartzell provides mission-optimized performance for customers. Hartzell Propeller traces its beginnings in 1917 to a business relationship with Orville Wright and was founded on the principle of "Built on Honor" – a tradition that continues today. For more info go to hartzellprop.com.