Hartzell has officially added Palm Beach Aircraft Propeller Inc. (PBAP) to our list of Recommended Service Facilities. The airplane propeller repair team at PBAP has served pilots out of the Palm Beach County Airport (KLNA) for over 20 years. Their team has  a reputation for meeting the highest standards of propeller maintenance and service.
Through their focus on quality, PBAP became the the 21st prop shop in the world to be named a Hartzell Recommended Service Facility. This designation is reserved for a dedicated network of service facilities around the globe whose commitment to propeller overhaul and repair matches Hartzell's dedication to propeller design and manufacturing. Currently, there are Recommended Service Facilities throughout the Americas, as well as Europe, Australia, Malaysia and New Zealand.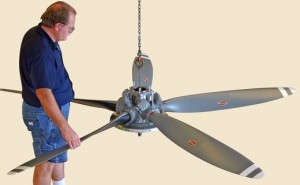 The President of Palm Beach Aircraft Propeller, Dot O'Neill, said the designation is an achievement that would have meant a great deal to her husband, the company's founder, Bob O'Neill.
"I feel that we have achieved Bob's dream of becoming one of the 'Best Propeller Shops in the Land,'" said Dot.
The Hartzell team is incredibly proud to welcome Palm Beach Aircraft Propeller to our network of Recommended Service Facilities. We're honored that the men and women who've made this business successful for over two decades chose to dedicate their talents to a closer partnership with Hartzell.