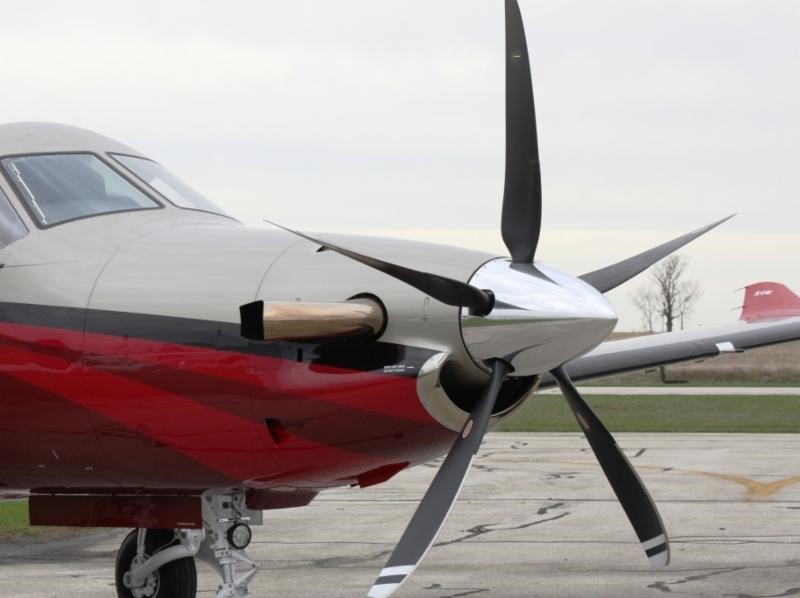 Piqua, Ohio, June 6, 2018 — Since Hartzell Propeller introduced a five-blade composite swept tip prop specially designed to maximize performance for the Pilatus PC-12 turboprop fleet almost three years ago, its early adopters are delighted with the performance results.
Hartzell experts will represent the propeller company at the 22nd Annual Convention of the Pilatus Owners and Pilots Association (POPA), to be held in New Orleans June 7-9. They will join a large contingent of Pilatus PC-12 owners who are flying the new 105-inch diameter propellers, including owners of new aircraft with the new props and members flying retrofitted aircraft.
The new propeller for the PC-12 is a product of Hartzell's multimillion dollar investment in structural composites, advanced aerodynamics, and the newest manufacturing processes for a number of new turboprop aircraft and their legacy fleets.
In 2015, Brian Cleary, then president of the POPA, said: "The Hartzell five-blade has a lot more thrust in the takeoff roll and climb out. I like the technology behind it so I decided to get the Hartzell prop."
After flying his aircraft with an engine upgrade for 50 hours, just 20 with the new prop from Hartzell, he said at the time, "The combination is really a transformation in many regards for the airplane. It is terrific and I love it."
Now, years later, he feels the same way about his next gen propeller, "Still loving it. All of my initial impressions of performance improvements have held true over time," Cleary said.
PC-12 owner Robert MacLean, who also served as POPA president, agrees. "The new five-bladed prop looks great and works as expected – improved climb rate, improved descent rate (one more blade – more resistance when throttled back) and a few knot improvement in cruise. All and all, it lives up to expectations."
Thanks to the five-blade Hartzell propeller, the PC-12 NG cruises five knots faster, climbs to a cruise altitude of 28,000 feet 10 percent quicker, and has a 50-foot reduction in total takeoff distance. Its highly swept airfoil reduces flyover and cabin noise and its blades are certified for unlimited life.
"Clearly, our propellers have been selected by Pilatus as standard equipment on new production aircraft because of their exceptional reliability and superior performance," said Hartzell Propeller President Joe Brown. "We are doubly pleased to be able to offer the newest technology as well for legacy operators," he added.
"The Pilatus PC-12 with Hartzell's aerodynamic five-blade prop gives owners and operators excellent performance and reliability and offers them a highly desirable way to increase the value of their airplanes while wringing even more performance out of their flying assets."
He noted that Hartzell offers the new composite five-blade Pilatus prop with its industry leading Top Prop warranty through its first overhaul (six years or 4,000 hours). The list price for the new Pilatus PC-12 propeller is $83,864.
The new structural composite five-blade propeller is seven pounds lighter than the standard four-blade aluminum propeller. Hartzell's five-blade composite prop for the PC-12 is five to 10 times stronger than wood core propellers. Stronger materials equal thinner, wider airfoils that optimize performance.
Beginning its second century, Hartzell Propeller is the global leader in advanced technology aircraft propeller design and manufacturing for business, commercial and government customers. The company designs next generation propellers with innovative "blended airfoil" technology and manufactures them with revolutionary machining centers, robotics and custom resin transfer molding curing stations.
 With ASC-II™ composite technology, Hartzell delivers optimal performance, strength and durability with carbon fiber blades. Hartzell Propeller and its sister company, Hartzell Engine Technologies LLC, form the general aviation business unit of Tailwind Technologies Inc. For more info on Hartzell Propeller, go to www.hartzellprop.com.