What does it take to become a Hartzell Recommended Service Facility (RSF)? If you're American Propeller, it takes grit, persistence, and a dedication to being one of the best prop shops on the west coast.
In March, Hartzell welcomed American Propeller as a Hartzell Recommended Service Facility. As a member of the network, American Propeller is now recognized as providing the highest-quality propeller overhaul and repair work available on Hartzell props, reflecting Hartzell's commitment to quality, performance and customer satisfaction.
To achieve Hartzell's RSF designation, American Propeller met a number of stringent requirements, including on-site quality systems and process audits and the use of factory trained and highly qualified propeller experts. In addition, American Propeller is required to maintain Hartzell-approved specialized propeller tools and equipment along with meeting Hartzell process approvals on an ongoing basis.
According to Todd Marinkovich, Service Manager at American Propeller, the company had been pursuing RSF status with Hartzell for about a year before being approved. "As soon as Hartzell put interest in us we started (preparing)," Marinkovich said. "As a certified repair station, we were already familiar with the regulations and technical requirements in the manuals." What they did have to ensure is that they were up to speed on the high process controls and quality system standards that Hartzell requires of its RSFs. "We'd been an RSF back in the 90's," he said, "so we knew what to expect."
Becoming a Hartzell Repair Service Facility delivered big benefits to American Propeller and their customers, too. According to Marinkovich, "The main benefit for our company is the technical service we get (from Hartzell) being an RSF, and obviously there's better pricing structure. That also benefits our customers because with better purchasing power we can do the overhauls at a better price."
In addition to purchasing power, American Propeller also benefits from on-call service and support from Hartzell's team of experts. "We definitely appreciate the service we get through Hartzell," Marinkovich said. "Whenever we have technical issues or questions we can call into the service center and get great help and response. I can call in and have questions for, say, Mike Trudeau and he'll stay late on his own time and help me with answers and things like that so that I can get a better report back to my customer on the Hartzell product. And everybody that we deal with is like that there. Everybody always goes out of their way to help."
American Propeller, of Redding, California, serves a large area of the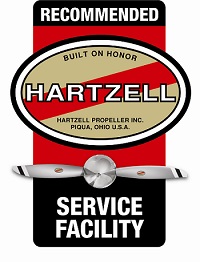 western United States with its fleet of transport vehicles offering propeller pickup and delivery services. They run pickup and delivery services throughout California, all the way down to Las Vegas, up through Oregon and Washington and even into Idaho and Colorado. This saves customers from having to crate, ship and haul propellers for overhaul work. Customers can simply take their aircraft or propeller to their FBO, who will give American Propeller a call to come and pick up the prop. American Propeller aims to hit a two-week turnaround time on all propeller overhauls – including delivery time. One of the ways they are able to deliver this quick turnaround is that they try to do as much work as possible in-house, including shot peening on the airfoil.
"A lot of shops are having to ship out blades, sending them elsewhere to get shot peened. You're almost spending as much in shipping as shot peening, so we're able to decrease our overhaul time and decrease the cost of overhaul by doing in-house shot peening."
The addition of American Propeller represents a continuation of Hartzell Propeller's commitment to grow facilities around the globe capable of meeting Hartzell's rigorous standards for customer service. In many cases, Hartzell Propeller requirements significantly exceed those of governing airworthiness authorities.
Marinkovich summed up the relationship between Hartzell and its RSF's best when he said, "We feel like a member of the family (now), not just a shop buying parts from them."
To learn more about becoming one of Hartzell's Recommended Service Facilities, or to find one near you, click here.