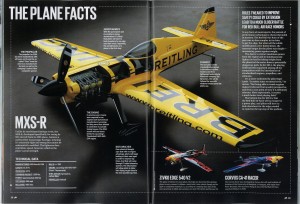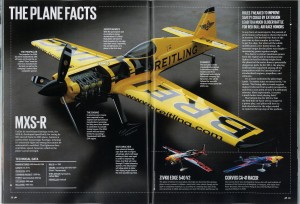 The first Red Bull Air Race of 2014 is coming on March 28th, and we are keeping a close eye on the action. Red Bull and Hartzell teamed up to provide our top-of-the-line Claw composite propellers to all the competitors. Buzz is building as air race fans ask "What makes The Claw special enough to be chosen as Red Bull Air Races' first ever standardized propeller?" You can find the specifics of our composite aircraft propellers' dominant design here.
The latest issue of Red Bull's Red Bulletin magazine covers our composite aircraft propellers and carbon-fiber spinners. The issue includes a beautiful shot of The Claw on MX Aircraft's MXS-R racing airplane. Check it out below, or click here for a full-sized version of the spread.
Air racing is a one-of-a-kind spectacle. Our hats are off to all the racers, and we look forward to seeing the results from Abu Dhabi later this month. We will have more coverage of the race in the coming weeks. A few lucky members of the Hartzell team will be headed off to the United Arab Emirates, so look forward to some incredible photos of Abu Dhabi, the planes, some high tech airplane propellers, and other highlights from the shining jewel of the Arabian Gulf.
Want even more from the Red Bull Air Race? Check the highlights from the 2010 season.