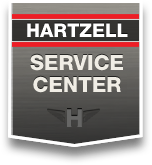 Our Hartzell Service Center is an FAA-Certified Repair Station (SJ3R843L) focused exclusively on our product line. If there is a Hartzell product you need serviced – whether you have a 2-bladed metal propeller or a 6-bladed composite system – our understanding of all things Hartzell is unparalleled. We provide high quality repairs and overhauls in short lead times at a competitive price. When we overhaul your propeller, the finished propeller will look like new, as we utilize the same surface treatments as the factory where your propeller was manufactured.
We understand that we also have a duty to be the standard bearer in the propeller repair station industry. Our standards are high, and that's why our operation features a combination of superior services, including:
Highly skilled and trained propeller technicians, averaging 19 years of experience exclusively with Hartzell propellers
Computerized business systems designed to ensure strict adherence to quality specifications in the minimum amount of time
Factory surface treatments which ensure that overhauls get completely new plating or anodize for refreshed corrosion protection and a "like-new" appearance
Full immersion penetrant line, which ensures the entire surface of all blades and hubs are flawless
Extensive parts inventory so that needed parts are available quickly, without the added time and expense of shipping
Leadership position servicing composite blades, with the capability and experience to execute even the most difficult repairs
CNC lathe and mill precision repairs requiring machining
Electronic balance equipment to provide the most accurate static balance in the industry
Hartzell product support, engineering, and quality teams can observe unusual issues first hand, make determinations, and develop solutions on site when appropriate, saving you time and expense
We invite service center customers to fly in or take advantage of our regional pickup and delivery services. These services aren't limited to geographical boundaries. We are happy to ship to customers around the world. Additionally, we also offer an exchange program for customers whose demanding flight schedules require the ultimate in convenience with minimum downtime.
Fly in customers can also take advantage of Ohio's sales tax exemption for general aviation aircraft and our specialized dynamic propeller balancing service for the ultimate in smoothness.
Need some more guidance? Visit Questions to Ask Your Prop Shop.
When you are ready to demand the best for your aircraft, contact us.