Portsea Island, home to most of Portsmouth's 209,000 residents, sits off the southern coast of England. The waters surrounding the city define its history as well as its geography; Portsmouth Harbour has been the backbone of English naval power for centuries. Today Portsmouth offers travelers the best of England's past and present: historic vessels, modern naval warships, museums, theaters, traditional pubs, culinary experiences and iconic architecture from every era.
Here are five places where you'll want to drop anchor in Portsmouth: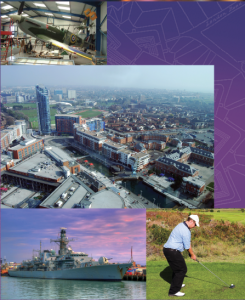 Tangmere Military Aviation Museum
Just a few miles east of Portsmouth, this unique museum displays relics of British aviation from WWI through the Falklands.
Portsmouth Historic Dockyard
The historic dockyards houses Henry the VIII's massive flagship, the Mary Rose, an authentic WWII submarine and the HMS Victory, which Admiral Nelson captained in the Battle of Trafalgar.
Spinnaker Tower
This iconic observation deck rises 170m above Gunwharf Quays. Its vivid architecture marks Portsmouth's status as a 21st century city and evokes images of massive sailing ships, an homage to the city's past.
Southsea Golf Links
The holes of this century-old course range from 50m to 90m, but don't let that fool you. All nine are fully exposed to the elements; the course is breezy, but it definitely isn't easy.
Gunwharf Quays
Portsmouth recently redeveloped this former military installation, which originally allowed ships to off-load their heavy guns before dry docking. Today, Gunwharf Quays is the best place to load up on the newest fashions.
While you're in Portsmouth, check out Proptech Portsmouth Ltd.They are a Hartzell Recommended Repair Facility, meaning their team has met the world's highest standard of propeller service expertise.