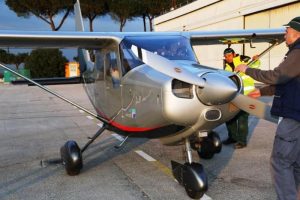 Piqua, Ohio, March 12, 2018 – Vulcanair Aircraft has selected Hartzell Propeller's two-blade aluminum constant speed propeller for its new single-engine V1.0 four-seat utility aircraft. The recently certificated V1.0 is powered by a single 180 hp Lycoming IO-360-M1A engine matched with a Hartzell prop that has been specifically designed for Lycoming's undamped four-cylinder engines.
"Vulcanair picked the 74-inch diameter swept tip Scimitar propeller from Hartzell because it delivers excellent overall performance, and like other Hartzell props, it is a great value for this market," said Chris Benaiges, CEO of  Vulcanair's U.S. dealer Ameravia Inc. "Our experience with reliable Hartzell props has been outstanding."
Hartzell is also providing Vulcanair with custom composite spinners. Both spinner and prop are manufactured using Hartzell's revolutionary robotics and machining centers.
"Hartzell Propeller is gratified that Vulcanair Aircraft elected to extend the beneficial and lengthy relationship both our organizations have enjoyed for more than 45 years, dating to the twin-engine Vulcanair/Partenavia P-68 aircraft," said Hartzell Propeller President Joe Brown.
Vulcanair was founded in 1996 and since then it has taken over the heritage of fine Italian design and manufacturing in General Aviation. Vulcanair's mission is to become a respected General Aviation manufacturer worldwide, through customer satisfaction and exciting, innovative, yet reliable solutions in aircraft design.
Beginning its second century, Hartzell Propeller is the global leader in advanced technology aircraft propeller design and manufacturing for business, commercial and government customers. The company designs next generation propellers with innovative "blended airfoil" technology and manufactures them with revolutionary machining centers, robotics and custom resin transfer molding curing stations.
 With ASC-II™ composite technology, Hartzell delivers optimal performance, strength and durability with carbon fiber blades. Hartzell Propeller and its sister company, Hartzell Engine Technologies LLC, form the general aviation business unit of Tailwind Technologies Inc. For more info on Hartzell Propeller, go to www.hartzellprop.com.