On December 17, 1903, Wilbur and Orville Wright, two brothers from Dayton, Ohio, made history with the world's first successful controlled flight of a heavier-than-air powered flying machine, known as the Wright Flyer. At the time, few could have imagined how these self-taught engineers would pave the way for the global aviation industry as we know it.
To commemorate that momentous first flight, "Wright Brothers Day" is recognized each year on December 17. On this day, we reflect on Orville and Wilbur's legacy and celebrate their pioneering spirit, which continues to inspire innovators around the world.
Hartzell Propeller & The Wright Brothers
In the process of designing the Wright Flyer, the Wright brothers conducted extensive research to understand how propellers worked. One of their most important discoveries was that propellers needed to act as airfoils that rotate to produce a horizontal force (thrust).
Using data from their airfoil wind tunnel experiments, the brothers built two large, slow-turning propellers hand-carved from laminated layers of spruce and added a twist along the blade's length to create a more consistent angle of attack. These early blades produced a maximum efficiency of about 66 to 70 percent, establishing the foundation for airplane propeller design. However, there was still room for improvement.
In 1914, Orville Wright moved to Oakwood, Ohio, and struck up a friendship with his neighbor, Robert N. Hartzell. After learning that he had a strong interest in aviation and engineering, Orville encouraged Robert to start manufacturing propellers at his father's walnut wood factory. In 1917, just as the U.S. was entering World War I, Robert founded the Hartzell Walnut Propeller Company to meet the country's immediate demand for stronger, more reliable propellers. Hartzell supplied the first "Liberty" aircraft propellers for warplanes and provided props for several pioneering aviation companies, including the Dayton-Wright Airplane company. In the early 1920s, the word "liberty" was removed from Hartzell propellers and replaced with "Built on Honor," the brand promise you'll find proudly displayed on every Hartzell propeller to this day.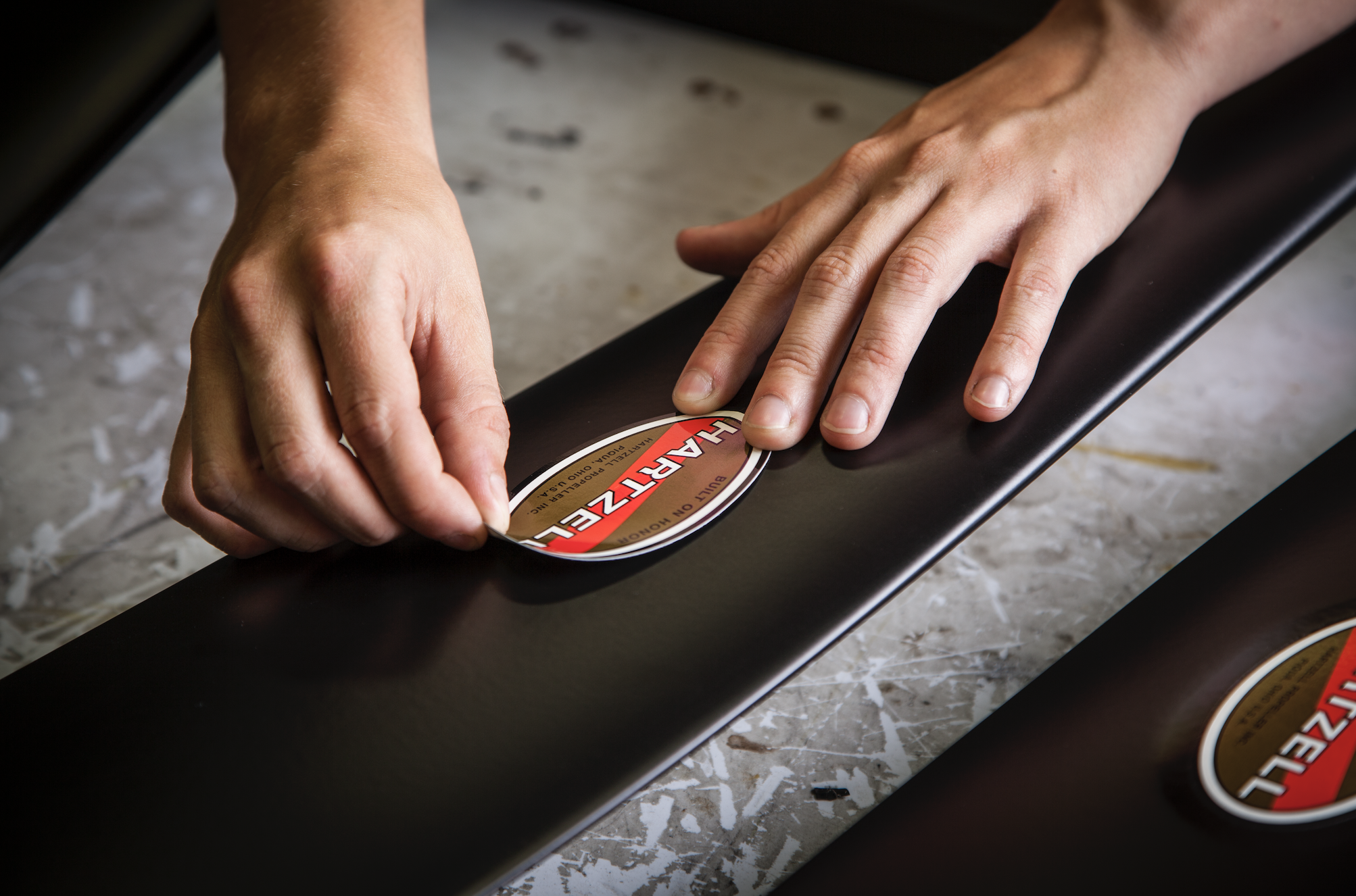 Thanks to that fateful conversation with a very influential neighbor, Hartzell Propeller has since evolved to become the global leader in advanced technology aircraft propeller design and manufacturing, producing highly-advanced aircraft propeller systems engineered for safety, reliability, and maximum performance. Backed by over a century of aviation innovation, Hartzell Propeller continues to invest in quality products, world-class processes, exceptional service, and leading-edge technologies to advance the future of aviation.
In addition to developing new aviation propellers that bring significant performance gains to the market, Hartzell Propeller leverages our expertise to create custom propeller solutions for some of the latest electric and hybrid-electric aircraft.
It's hard to imagine modern life without the Wrights' brilliant technological breakthroughs and steadfast determination to achieve the dream of flight. At Hartzell Propeller, we're proud to trace our story back to the earliest days of aviation and help shape the future of this incredible industry the Wright brothers helped make possible.