In case you haven't heard, AOPA's Annual Sweepstakes is well underway! The 2023 sweepstakes airplane is a stock 1953 Cessna 170B, a humble taildragger that's set to be heavily modified with an array of backcountry modifications.
Why a 170B?
The Cessna Aircraft Company produced the light, single-engine Cessna 170 taildragger between 1948 and 1956. The 170B was introduced in 1952, featuring large "barn door" flaps and a distinctive rounded tail. While the C170 was originally targeted toward business commuters and the typical American family of four, today, the classic aircraft has proved to be a versatile option for a wide range of missions, including off-airport backcountry adventures.
AOPA says this Cessna 170B sweepstakes aircraft was specifically selected "to showcase how select modifications can drastically expand a commonplace taildragger's mission." Throughout the sweepstakes period, AOPA will highlight the aircraft's transformation, as well as pilots' special moments in the airplane.
Modifications to Match the Backcountry Mission
With support from key contributors, AOPA plans to increase the aircraft's horsepower and outfit it with bigger tires, a lightweight interior, and modern VFR instruments. Finally, the aircraft will get a new look with a "dramatic paint scheme perfect for backcountry adventures."
The aircraft's first set of modifications focuses on power and performance, with a brand new Continental Prime certified IO-370 engine from Continental Aerospace Technologies. The four-cylinder engine is the highest-powered IO-370 in the Cessna 170 application, delivering 195 horsepower to strengthen the aircraft's backcountry capabilities.  
Aircraft Propeller Swap
In addition to a new, modern engine, the sweepstakes 170B has received a sleek backcountry propeller conversion for maximum performance and efficiency in the backcountry. Hartzell Propeller was proud to contribute an 83-inch, two-blade Trailblazer constant-speed backcountry propeller to the project, replacing the aircraft's worn-out cruise prop.
With improved takeoff acceleration and climb performance, plus the durability of Hartzell's Advanced Structural Composite technology, the Trailblazer has become a popular choice among backcountry aviators. Combined with the powerful new engine, this aircraft propeller upgrade will provide a power-to-weight ratio that's ideal for getting in and out of remote areas. Stoots Aviation, located in Fairbanks, Alaska, provided the STC required to install the new engine and prop on the Cessna 170B.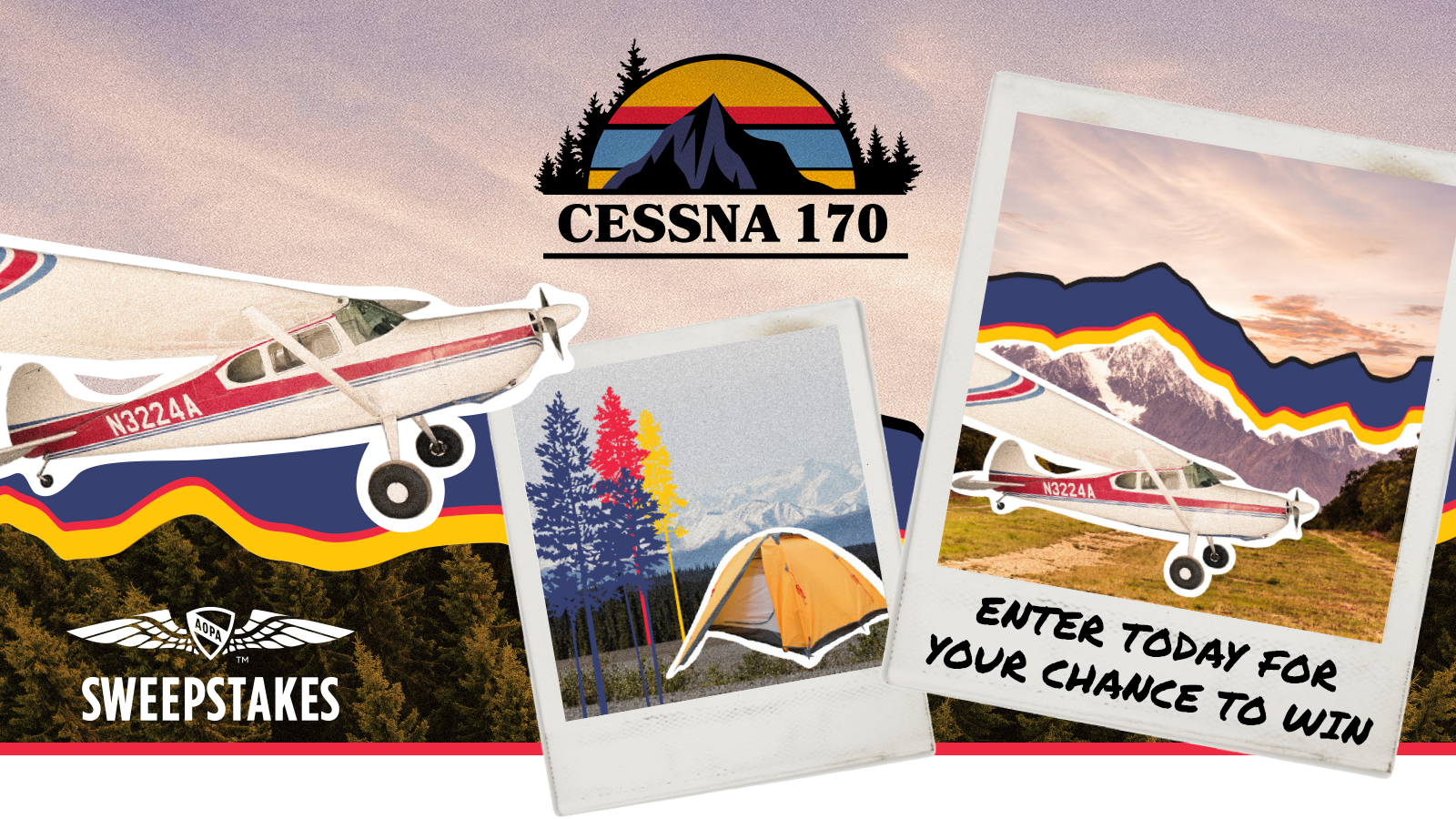 About AOPA's Annual Sweepstakes
While membership is not required for entry in AOPA's aircraft sweepstakes, being a part of the world's largest aviation organization has many exclusive perks. If you're not a member yet, this is a perfect opportunity to join! Learn more and find out how to enter the 2023 AOPA sweepstakes here.
No purchase or contribution necessary to enter or win. Void where prohibited. Ends 11:59 PM ET on 12/29/23. Grand Prize winner must be certificated by the U.S. FAA as of 12/29/23. For complete details/eligibility requirements/rules, visit aopa.org/sweeps. Sponsored by the Aircraft Owners and Pilots Association.