For over 100 years, Hartzell Propeller has designed and manufactured propellers Built On Honor, reflecting our commitment to quality, performance, and support.
Thousands of pilots around the globe fly behind our propellers, and now, we're excited to share a new way for customers and aviation fans to show off their Built On Honor pride.
NEW Hartzell Flight Gear Merch Store
With a great selection of Hartzell-branded t-shirts, sweatshirts, vests, polos, and hats, the new online merch store is the only place to purchase official Hartzell Propeller apparel and accessories.
"Countless customers have asked about Hartzell apparel, so we listened," said JJ Frigge, President. "To express our appreciation for the aviation community, we're excited to offer a special, limited-edition t-shirt available for purchase only at EAA AirVenture Oshkosh 2023."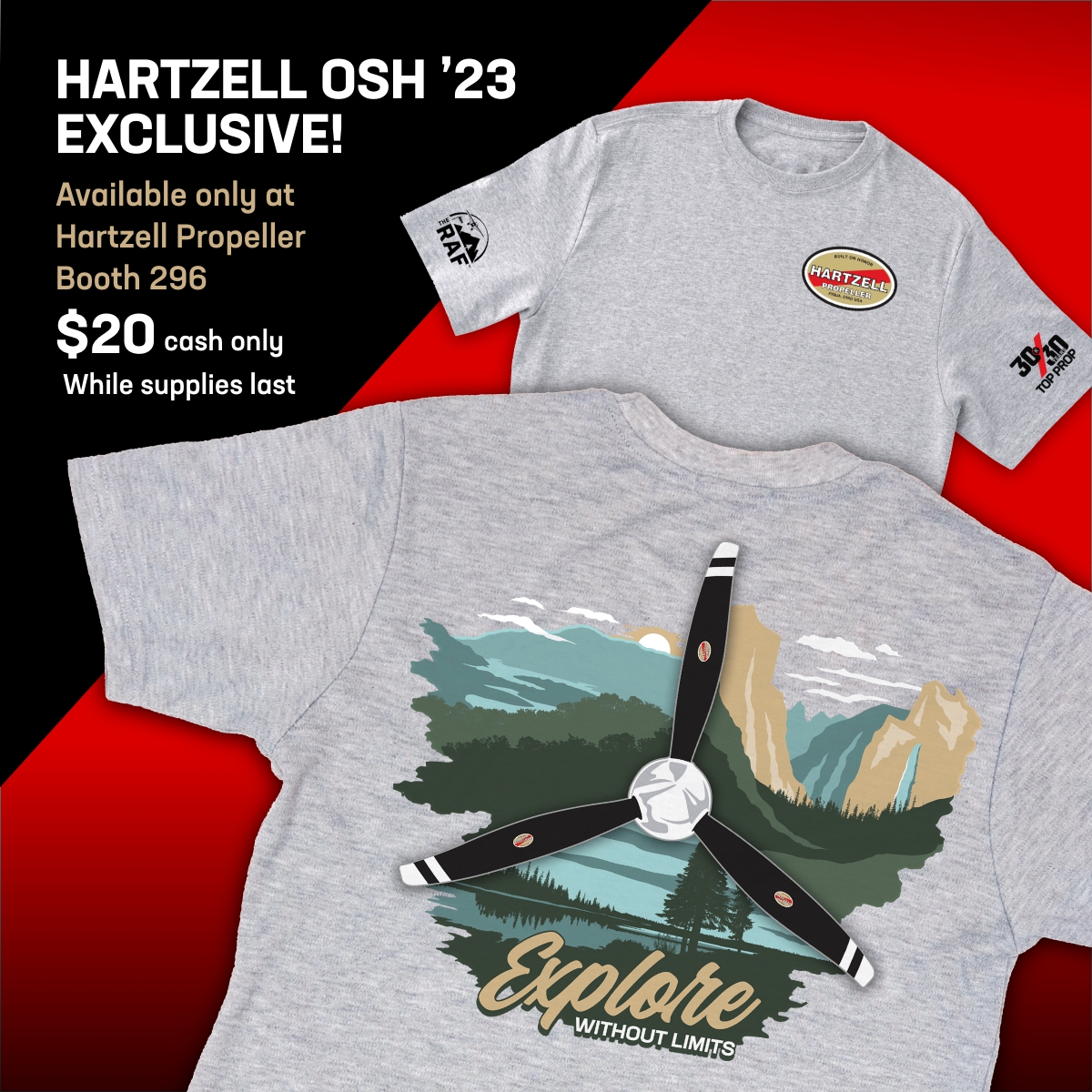 The Oshkosh 2023 t-shirt features a colorful design inspired by the freedom of backcountry aviation and the Recreational Aviation Foundation's (RAF) mission to preserve, improve, and create airstrips for recreational access. It also commemorates Hartzell Propeller's 30 years of Top Prop success, with over 30,000 propeller performance conversions sold through the Top Prop program.
Visit Hartzell Propeller's booth (296/297) Monday, July 24 through Sunday, July 30 at AirVenture to purchase the special t-shirt while supplies last, available for $20 (cash only). All profits from the sale of the limited-release t-shirt will be donated directly to the RAF's mission supporting backcountry flying access.
While at the Hartzell Propeller booth, visitors are welcome to view our next-generation propellers on display and speak with our team of propeller experts on hand to answer any questions. 
To shop other apparel online through Hartzell Flight Gear Merch Store, click here. We encourage customers to tag @HartzellProp on Facebook and Instagram wearing their merchandise using the hashtag #HartzellFlightGear.