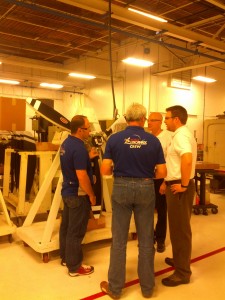 In case you missed it, WIRED magazine's Autopia blog recently did a fantastic story on the return of the Red Bull Air Races and the technology that makes them possible. That new tech includes "The Claw," Hartzell's structural composite aerobatic propeller, which is used by all the air racers. Seeing our cutting edge aircraft propeller mentioned on Autopia was great, and we appreciate the nod from WIRED.
Innovation is our lifeblood at Hartzell, and The Claw is really something special. In engineering, there are often trade-offs in terms of performance. Larger cars, to use an obvious example, can carry more passengers at the expense of fuel economy. The Claw, however, is one of those rare engineering achievements that is the best of both worlds. Hartzell's structural composite prop technology allows the blade to be lighter and thinner, for increased performance, while remaining incredibly strong and durable. The efforts of the Hartzell engineering team, and the Red Bull's decision to partner with them, are making the 2014 Red Bull Air Races the fastest and the safest air races ever.
The Hartzell team is no stranger to engineering geek-dom. In fact, 1 in 5 of Hartzell's employees are technologists or engineers working on developing the next generation of aviation innovation. It was a great honor to be mentioned by WIRED. We look forward to sharing more of our innovations with the world as we continue to push the boundaries of aircraft propeller technology.
Check out Hartzell Propeller on Pinterest to see The Claw in action at the Red Bull Air Race in Abu Dhabi