Hartzell composite propellers are lightweight, durable, and often surprisingly easy to repair. Many small repairs can be made with little or no assistance from the Hartzell Service Center or our Recommended Services Facilities.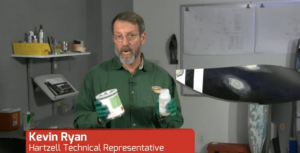 Below are a few helpful step-by-step videos explaining  how to make three of the most common small repairs on Kevlar blades.  Please check back shortly when we also share our tips for carbon composite blades as well.
Before making any repairs, please be sure to download the Hartzell Propeller Composite Propeller Blade Field Maintenance and Minor Repair Manual, more commonly known as Manual 170.

Of course, we're always ready to help with any questions about propeller repair. Drop us a line anytime, and we'll be glad to assist you.
Hartzell Composite Propeller Repair Video – Kevlar Gouge Repair
Hartzell Composite Propeller Repair Video – Kevlar Trailing Edge Foam Repair
Hartzell Composite Propeller Repair Video – Kevlar Tip Repair
Hartzell Composite Propeller Repair Video – Carbon Gouge Repair
Hartzell Composite Propeller Repair Video – Carbon Trailing Edge Repair
Hartzell Composite Propeller Repair Video – Carbon Tip Repair